A guest post by frequent contributor Gary Moskoff…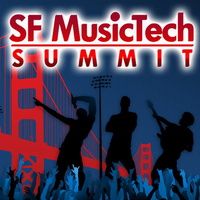 The San Francisco MusicTech Summit 10 was an experience I will not soon forget. In fact, I've attended six conventions this year, and this was simply the most informative one of them all. Held at the Hotel Kabuki in San Francisco's Japantown, the convention wasn't your typical Techy, Geeky, musical meet up. Approximately 1/3 of the attendees were musicians, while the other 2/3rds were technologists.
The conference itself was comprised of panel discussions, one after the other. Themes and topics that arose ranged from using API's to prolifically share one's products, to the licensing landscape and how some have become basement superstar phenomenon's on YouTube.
My favorite session was the final panel of the day, where a group of seasoned industry executives who are shaping this industry discussed what was coming next. I almost fell off my chair when the host hand delivered a beer to all of the speakers (high class at the end of a great day).
Seeing panel after panel provides a very different experience than watching speaker after speaker, leading to a deeper peek into how tech and the music industries are colliding as we learned about both the successes and failures of the panelists. People tend to be more relaxed and open up a bit more when on a panel, than when they offer prepared remarks and these insights are extremely valuable to entrepreneurs, technologists, musicians, and pretty much everyone who attended that were looking for insights to improve their businesses and/or careers.