Guest piece by contributing editor Gary Moskoff…
This year, CTIA was an afterthought, a last minute decision for my buddy Conor Swanson and I, but the right one. If you haven't attended CTIA, it's a different kind of conference… Where else can one find a Satellite Transceiver Station on a convention floor sitting next to LG's booth?
CTIA, in case you're not familiar with the group, is the International Association for the Wireless Telecommunications Industry. You can find out more about the association and the conference at the Web site: ctia.org.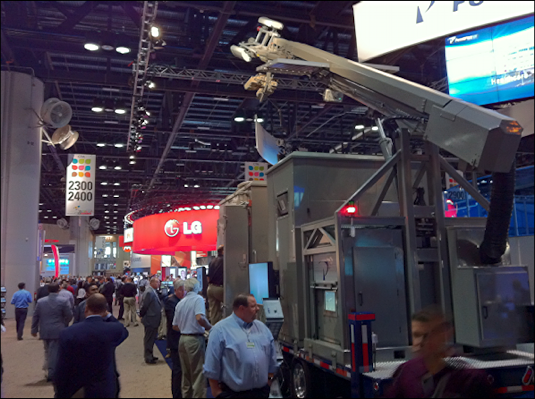 We enjoyed checking out a number of products during the convention, including Sprint and Google's partnership to release Google Voice on the Sprint network, but my favorite product was…
The best product we played with was Sony Ericsson's Xperia Play Android phone, who's gnarly design aligns well with any Generation X or Y gamers lifestyle. Opening the phone reveals a real game pad, with a D-pad, touch pads, and shoulder buttons.
The phone feels solid and strong, which will work well for gamers or those using the Android as a phone. As we watch the casual game market collide with the hardcore gamer space, anything can and will happen.
This device is the perfect example of the evolution we are all witnessing too:
?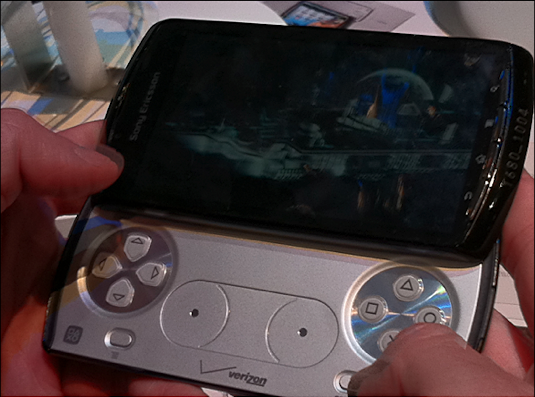 The other highlight of the show was seeing Twitter co-founder Biz Stone, Clearwire chairman and CEO John Stanton, and Human Rights Watch Executive Director Kenneth Roth on a keynote panel hosted by CNBC anchorwoman Michelle Caruso-Cabrera. The panel discussed how social media is changing the world, making it a safer place simply because the wider community is tuned in.
Roth said, "social media has made possible a leaderless revolution. Once the revolution is underway, it allows for incredible, quick action among participants. It all happens without the typical leadership a government would want to attack."
"It's very difficult to control or restrain what I might send you in text," Stanton said, "Mobile devices can empower individuals, and ultimately, that is more powerful than governments." Communication simply keeps everyone on their toes. Roth then discussed the events which were unfolding in Egypt, "We never lost touch with [Human Rights Watch] people in Egypt." He went on to say, "Something always worked. It's not so simple to shut off information any more."
My favorite part of the interview was Stone's description of Twitter, "I think about Twitter like a flock of birds in flight–their action looks complicated and choreographed, but it's actually simple communication among individuals in real time, behaving like they're one organism." This summed it all up for me, what it takes to deliver a new, cutting edge solution like Twitter to market.
Although the show was a great experience, there was an ever present feeling, a dark shadow that was impossible to miss due to NTT's absence. Over the years, I've done a lot of business in Japan and with NTT, my thoughts and prays are with Japan. I know they will prevail, rebuild and be stronger than ever, remaining one of the strongest countries and cultures in the world.
?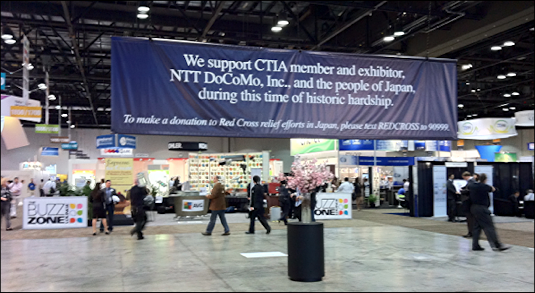 Before leaving, I ran into Smart and Safe, the company responsible for the Wired Air Tube headset that replaces the electric earphone which transfers both sound waves and harmful radiation. They gave me a set of ear phones to try out and I love them, both my wife and I found them delightful. The sound was great, they worked perfectly and I was excited about the reduction in radiation to my brain. They are available on their website, check them out and learn about the risks at
Smart & Safe's website.
Gary Moskoff is an expert on telecommunications and digital safety issues, as well as a contributing editor to Ask Dave Taylor. We appreciate his tradeshow report and hope you found it valuable reading.