[This article is written by Contributing Editor Gary Moskoff]
A lot of companies are realizing that they can advertise and promote their brands through utilities, games and other applications for the Apple iPhone, including Walmart, Starbucks, REI, Sears, Audi, Target, Nikon, Toyota, Honda, Ikea and Nike, to name just a few.
Most of these, however, come across as me-too applications that aren't particularly creative, games that aren't very fun or as applications that just don't have much cool factor or completely miss their target audience of iPhone users anyway.
So who do I think is doing it best? You might be surprised…
The coolest branded iPhone App hands down is Adidas' free Urban Art Guide of Berlin [iTunes link].
I've been developing mobile apps for some time now, and I have NEVER seen anything quite like this App.
When you open the App you are taken to a cool map of Berlin. Before I saw this App, I'd have to admit that I never wanted to visit Berlin, but now it is my number one city I'd like to visit in the coming years.
Growing up outside of New York I gained a strong appreciation of urban art, which stemmed from meeting Keith Herring during the eighties. His art defined a generation and I believe helped the world admire art in a different way.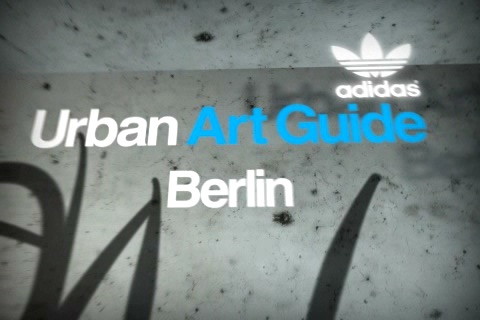 Since then, I've enjoyed viewing good urban art throughout the world and this App proves Berlin's dominance in urban art. Not only did Adidas take advantage of these free assets spread out throughout the city, I think they found a way to attach everything that makes the iPhone an amazing mobile device uniquely to their brand.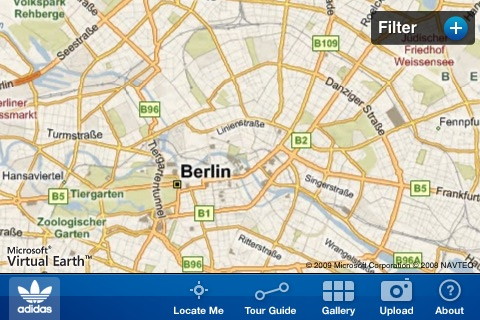 Once you start the App and view the map, you can find yourself and follow the tour. Here Adidas took full advantage of the GPS functionality embedded on the device, or if you are not in Berlin, you can admire all of the art via the gallery tab.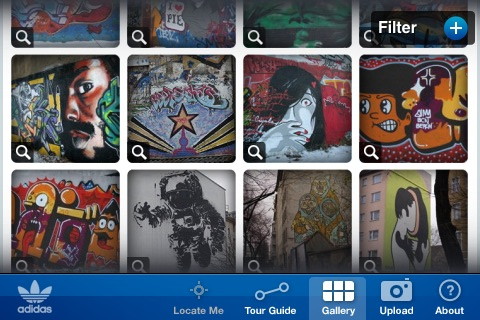 Then there are additional tabs allowing you, as an individual to take part in the "game" by uploading images from wherever you are, unfortunately, or fortunately, I live in Denver and although there are many reasons to love this city, there isn't much urban art here to appreciate, I encourage everyone who lives in a city and appreciates urban art to show off their city's best work.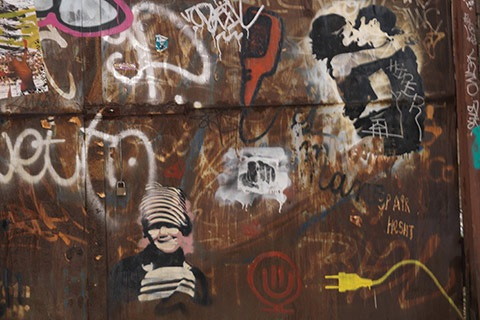 Here again, Adidas took a bold step towards creating a community attached to their brand which keeps them relevant and cool all at the same time. This simply isn't your average iPhone App, it uniquely crosses cultures and blurs our mobile reality with real world experiences and I believe will actually drive tourism to Berlin. I wonder if the city of Berlin had anything to do with it? Either way, I'm sure they will appreciate the effort made to highlight a part of their city that few in this part of the world new about prior to the creation of this app.
So until you have the chance to visit Berlin yourself, check out this App and take part in the community yourself by adding to the database of cool urban art work.
---