A light illuminates on your dashboard. "Oh, I recognize that one", you think. Maybe you choose to ignore it, or maybe it is an easy fix, it goes away momentarily, days later it happens again. Is it a wiring mishap or is something seriously wrong? Your mechanic might charge you $100's to figure it out, or you can do it yourself with CarMD, a handheld device that works with cars newer than 1996. Coupled with an online database, the device provides you with information only your mechanic had; until now for only $98.99.
When the team at CarMD gave me a sample device at Macworld 2010 I had planned to check it out the next time my car acted up. As I just "invested" over $5,000 into it, I had hoped that was not going to happen for a while; a few weeks at least. Unfortunately, a few days later, my check engine light turned on, so I figured it was time for my review…
The next day, I plugged in my CarMD to my Audi and although it took approximately 45 minutes to figure out how to use and sign up for the service, it wasn't difficult to do. Simply register the controller online before you encounter any issues, this will save you some time and a bit of frustration when you have any issues with your car. When using the device, be sure to plug it into your car; do not start the car, just turn on the battery and follow the directions exactly – I always have a problem following directions exactly… The device has three lights; green signals that everything is okay, yellow suggests there might be a problem and a red light means that there is a problem.
When the code came up that my engine was misfiring, I figured the device was not working. After all, I had just rebuilt my engine. Everything under the hood had just been replaced. Then I remembered that I had filled up my gas tank a day before my troubles, so I assumed my gas cap was on incorrectly. I immediately took off my gas cap and replaced it. The light went off and I was arrogantly patting myself on the back for solving the "misfire".
A few days later, on my way to an important meeting, it happened again. Only this time my check engine light was blinking. I pulled over at a trailhead and called my mechanic who suggested that I have it towed in immediately. They asked if I had been called in for the recall! Frankly, I had NO idea that my car was recalled. My mechanic loaned me a car and brought mine in to the dealer. Turns out, the CarMD was right! In fact their online system notifies you when there is a recall. Apparently, I missed that notification and my engine was misfiring, all due to issues associated with the Audi recall. I returned my loaner, had my car repaired for free and was off. Too bad I initially ignored my CarMD. After all, it would have saved me hours waiting for my tow and dealing with all of the issues related to the recall.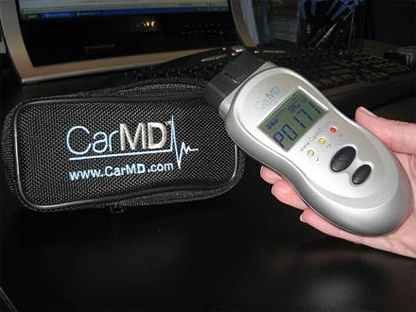 The online system also provides a quote to fix the issues detected by the CarMD device. So if my car hadn't been recalled, I could have taken that quote and called around to find the right mechanic to fix my car. Moral of the story, don't leave home without your CarMD and when you have your oil changed, take a quick look at your engine to catch any issues before they leave you stranded, I know I will.
In fact, if you run into a problem on the road, you can call CarMD, tell them what error codes you are reading and their ASE certified mechanics will help you diagnosis the problem and give you an estimate over the phone so you know approximately how much it will cost to fix – talk about being customer intimate/focused. CarMD has not only built a GREAT product, they've built something that we can all use when we want and where we need to.
Gary Moskoff is a contributing editor to Ask Dave Taylor and is the President o
f Sleeping Giant Solutions
, the company that also created the cool
Ask Dave Taylor iPhone app
[iTunes link]. Sleeping Giant develops unique marketing concepts, online games, software and relationships/ distribution channels that position your brand deeply within your customer's lifestyle. The products I review are typically given to me so I can properly evaluate them over an extended period of time.