Dave, I have a Samsung YP-910GS hard drive mp3 player and it reciently stopped working. I tried to reload the firmware but when I connect it with USB the computer says unreckonized USB device. I know the hard drive is a 1.8″ Toshiba, same as in the iPods, but it says the drive is an ATA drive? Is there a way I can check the disks for errors and repair it, if it is corrupted?
Assuming that the processes are the similar to the Samsung 920 player, there are actually two pieces of software that are important for the computer to be able to make use of your player; the firmware and the driver files themselves.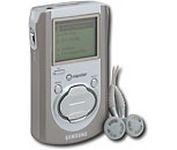 The firmware is the software that resides on the player. The drivers are a separate entity and are what Windows uses to recognize your player.
For example, when I go to
Start
–>
Settings
–>
Control Panel
–>
Add/Remove programs
, what I see at the bottom is "YH-920 Drivers and utilities."
If you reloaded the firmware but not the drivers, you may still have a driver problem. Uninstall the software using the Add/Remove Programs window. Don't do this manually or using another "remove" tool as exists in some players. That will likely not get rid of everything. Then, take your CD or download the drivers and install them.
It is important to note that the instructions explicitly state not to plug the device in until prompted, or until the install process is finished.
The 920 also shipped with a program called "Recovery Utility" that resets the drivers and the firmware. If this shipped with the 910, this may help. I had to use this once because I disconnected the device without using "safely remove hardware." It takes about 20 minutes to run, but it did work.
That brings up another important note. Many of us use USB drives or other devices and don't bother with the "safely remove hardware" function (accessible in your system tray) without any ill effects. My USB drive, my old Rio MP3 player, and my cellphone all fall under this category. However, the Samsung hard drive players REQUIRE you to safely remove the device using Windows before unplugging it. If you don't do this, your player will crash. This has happened to me; they are telling the truth.
Many thanks to MP3 expert Jeff Lawley for his help on this question