My boss wants me to manage our Zoom meetings and I'm wondering what additional controls I gain as "host"? I'd like to jump right in knowing how everything works!
Generally speaking, the person who initiates a Zoom meeting or call is known as the host or facilitator of the meeting, but when you have organized groups or regular sessions, it's hard to avoid other people jumping on early and potentially becoming the host! The smart way to manage this is to either share the URL of the host's Zoom account. Meeting links with you as the default host can be found by checking your Personal Meeting ID (PMI) in your Zoom profile, and look like this: 123 456 7890. The subsequent URL will look more or less like this: https://udenver.zoom.us/j/1234567890. That's for the University of Denver, your organization will have a different domain if you're a paying customer, or it might just be zoom.us without a fancy subdomain at all!
A popular strategy if you're using a free account to avoid strangers and weirdos dropping into your meeting unannounced is to use a waiting room. As long as you're on top of adding people as they show up – since it's your job as host! – this is a great way to have it be clear that you are in charge of the meeting. That's what we did for this demonstration where I started out as the host of a meetup Zoom call, then handed over the host role to my colleague Dixon, as you'll see.
First off, you'll want the "Participants" window open at all time; that's your base of control. You can see here that Jonathan and Dixon are already in the meeting, Jonathan has his video muted and Dixon's completely unplugged with his audio muted too: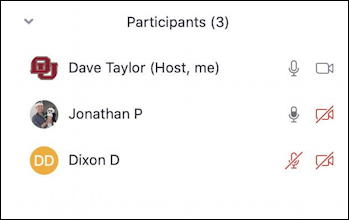 Just as importantly, notice that I'm listed as "Host". If you connect and don't see that, you're not the host!
Look along the bottom of the Zoom window and you'll see that there are some new controls too:

Yes, you can record Zoom meetings. With our University of Denver account, we can also automatically produce a transcript too, a great boon if you want to search across previous meetings to find a specific discussion.
Back to the Participants window, however. When someone shows up in the waiting room – if you have enabled that – you'll see them show up like this: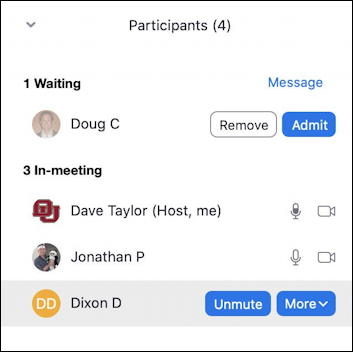 To refuse Doug entrance to the meeting is as simple as clicking "Remove" but most likely you'll choose "Admit" to let them join the full Zoom meeting.
Now look at the last line of the above. By moving the cursor over Dixon's name, two buttons pop up: Unmute and More. If you have everyone muted (typically a good idea for a multiperson meeting) you can individually unmute people with the commensurate button. Easy. And that More button? Lots of useful options: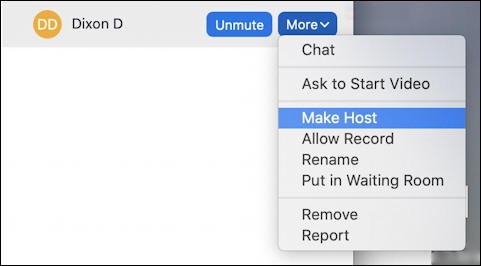 I've highlighted the choice I'll make to hand off hosting of the meeting to Dixon, but notice that as host you can invite them to start their video (for privacy reasons you can remote unmute them but you can't remote turn on their webcam), allow them to personally record the meeting, rename them in the meeting room or even push them back into the waiting room. So tempting!
If they need to get the boot, you can move them back to the waiting room, but you can also remove them from the meeting entirely. If they're a "zoombomber" and have crashed your meeting, you can Report them to Zoom too for further action.
I'm going to make Dixon the host, at which point I completely lose any control over other attendees. You can see that when I move my cursor over Jonathan's entry in the Participants list now. No blue buttons!

In fact, as an attendee, the only controls I get are over my own participation in the meeting:

Not a whole lot I can accomplish here, but that's okay, I can just participate in the meeting and let Dixon do the heavy lifting. 🙂
Anyway, now you know the basics of how to run a Zoom meeting as the host. It's pretty easy and you'll find doesn't disrupt you from being a full participant too for any but the most chaotic of sessions.
Pro Tip: I've been writing about Zoom and video conferencing for years. Please check out my Zoom, Skype & Video Chat Help area for lots more useful tutorials!