I read your earlier article about how to change your default MySpace profile photo, but the suggestions did not help me at all. The way your instructions were explained, they did not flow with the current MySpace screens in either "classic" or "new" mode. Can you post an updated tutorial, please?
Congratulations, you have found one of the biggest challenges of writing about Web sites: they keep changing. Most of the times the changes are fairly subtle and it'snot that big a deal, but sometimes the entire interface is revamped, new features are added, and things change so much that the older tutorial pages are pretty much useless.
I hate it too.
So I'm going to start a series of articles that offer updated instructions on how to accomplish common tasks in MySpace with the hope that it'll help everyone over the "interface improvements" hump, starting with this very article!
Where you can immediately get confused with MySpace is that you can't change your default picture by going to the "edit profile" area. Instead, there's a surprisingly easy shortcut once you know the secret!
Immediately below your picture you'll see a little "Photos: Edit | Upload" link: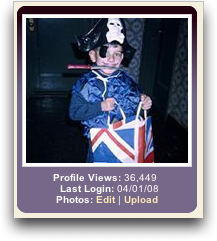 Click on "Edit" if you already have the picture you want to use uploaded, or "Upload" if you need to upload it first.
Now just click through the albums, etc, to get to the specific photograph or image you want to use as your profile picture and you'll see along the top a row of buttons:



Click on "Set as Default" and poof! You just changed your default photograph in MySpace. Well done!
🙂
Now, I should say that though a few articles are out of date, the vast majority of
MySpace Help
is a great place to learn more about how to use this cool social network, and if you want to find my profile there, well, I'm
myspace.com/d1taylor
.