I've been uploading some videos to YouTube and am really frustrated by the thumbnail image that YouTube chooses for the video. It's usually awful. Is there a way to change it and, ideally, to actually specify the exact frame I want to have used for a custom YouTube video thumbnail?
Look up just a bit at the light blue menubar running across this page. See "Video Help"? Click on it. You'll see that I also do a lot with YouTube videos and I have also been frustrated by the choice of thumbnails that YouTube offers. It appears to be three frames that are randomly selected about 25%, 50% and 75% through the video. Used to be the case that people would calculate the exact frame and use it, or would add the desired frame as a five-minute still at the end of their video so it'd be picked up as a thumbnail choice (then delete that last five minutes with YouTube's built-in video editing features).
Complicated.
Fortunately, the latest version of the YouTube publisher interface actually now includes a button that lets you upload any image you want as a custom thumbnail. The trick is to be aware that it can take six hours or longer for your new thumbnail to show up, which I expect leaves a ton of people assuming it didn't work.
Here's a video I just uploaded:

You can go view it if you want, I'll wait here:
Dave Reviews the Geneva SX Speaker
.
Back? Great. So when I look at a video that I uploaded, there are some additional options along the top, most importantly one labeled "Edit". I've highlighted it above. Click on it and three options for the thumbnail are displayed on the right side, along with a larger view of the current default:
If I move my cursor over one of the other thumbnails, it'll change to show that I can select it as my new thumbnail:
In fact, it's the "Custom thumbnail" button that's of interest. It's highlighted above. I already grabbed the still frame from the video that I want — the opening title — and have saved it as an image ready to upload:
A click on "Custom thumbnail" followed by selecting the image file and it shows up as a fourth thumbnail option: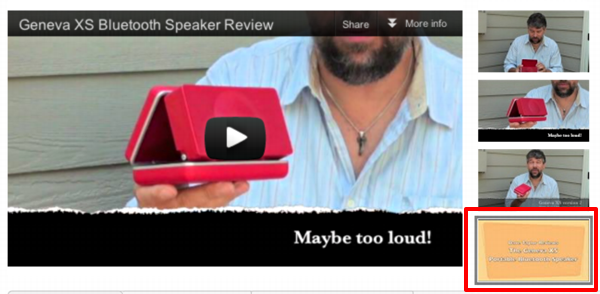 As far as I can tell, by having a custom thumbnail image show up on the Edit screen it means that's the current choice.
Problem is, as I said earlier, it doesn't show up instantly, so after I changed things and went to
The AskDaveTaylor Channel on YouTube
, it still showed the old thumbnail:
What needs to happen? Time needs to pass. When I checked about six hours later, finally, it had updated as desired:
So there you go, you can use any image you'd like as your custom thumbnail and you can also change it as many times as you'd like. Just remember that there's a long lag time between specifying the new thumbnail and it actually happening.
Oh, and a handy tip: YouTube "recommends a resolution of 1280×720, in image formats such as .JPG, .GIF, .BMP, or .PNG".