I notice that you run Kontera's contextual advertising network on your site, Dave. I've heard good things about the network, but am curious: how much do you actually earn off this program, and is it worth it? If so, how can I get started?
I'm actually quite pleased with the results I'm getting from Kontera's ContentLink program, truth be told, and they tell me that the Kontera advertisers are also quite happy to appear on AskDaveTaylor because, as Kontera exec Mike Glover explains, "our advertisers are really enjoying your site and its content/readership: The conversions they're seeing are higher then on other sites…"
Before I go further, though, let me explain what I'm talking about. In this very article you'll notice that there are, somewhat randomly, words or pairs of words underlined. If you move your cursor over one, you'll find that there's a slick looking pop-up advert that appears, and if you click on that ad, you'll go to an advertisers' page. Kinda like Google AdSense, but hidden behind text links. Here's how it looks with a popup: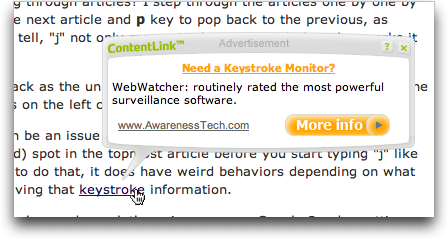 Is Kontera worth it for me on this site? Well, let me just show you a report for the last week and let you do the math so you can answer that question:
As you can see, if you have some good traffic to your site and your site and content is advertising friendly, it can be a
terrific new source of revenue
for you.
Mike explained when I asked him about why he thought my site was doing well: "Because of your content and how tailored it is to people looking to solve problems, it works especially well with our technology and suite of advertisers. Kontera is always looking to promote publishers who have quality content for our advertisers."
Sound good? Heck, I'd suggest to you that as with anything else, it's worth experimenting with Kontera, even if you're already using Google AdSense or another advertising network, because of how unobtrusively the ads blend into the content of the page. If you'd like to get started, Kontera's given me a specific link for you to use so they'll know I sent ya:
Get Started Making Money with Kontera!
When you sign up, you'll also then want to read my article on how to use their special codes to specificly include and explicitly exclude passages of text on your site from their matching engine:
How to Customize Kontera Text Ads
.
Generally, though, I've found that it's easy to get started. Who wouldn't like to make a few more bucks from their site, in a way that I think is quite respectful of the attention and time of your readers? 🙂
Yes, that's an affiliate link I'm using here. By signing up through my Kontera link you help me keep the lights on in my office and help keep this site chugging along. If you'd prefer not to, well, okay, just go to the Kontera home page and click on "sign up" instead.