There's got to be a way to do this without actually deleting and reinstalling the app! Dave, how the $#@$&(&* do I log my daughter out of her Facebook app on my iPhone so I can log in to my own Facebook account?
There is indeed a way to log out of the Facebook app on the iPhone, but I'm not surprised that you're a bit frustrated as it's not at all easy to figure out and I almost think the Facebook team has made it extra hard to figure out, since they want you to always be logged in and constantly be using Facebook.
Now you could use the Web-based interface on your smartphone or mobile device, that'd be one solution, but I have to say that the iPhone / iPad Facebook app has become pretty slick and I think it's much superior as a user experience (even if it's often slower than I'd like). The key to navigating the new Facebook iOS app is that the button on the top left with the series of horizontal lines is the main menu and navigational starting point.
Let's have a look.
Here's my iPhone 4 running Facebook, logging in and showing a pretty typical view: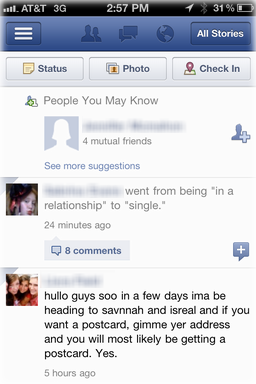 As I said earlier, the key is to tap on the button on the top left with the three horizontal white lines… Tap on it, and you'll bring up the main navigational menu. Scroll down to the very bottom: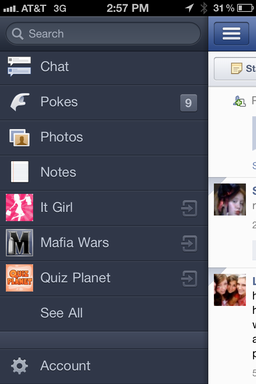 Ahhh… "Account". That's a good place to go. Tap on it and a set of buttons will appear: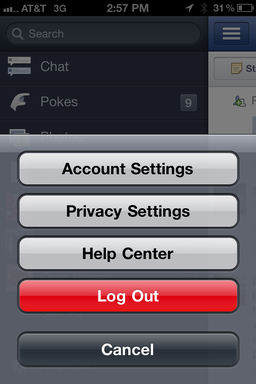 If you guessed that the big red "Log Out" button is what you seek, congratulations! You've just won a cigar!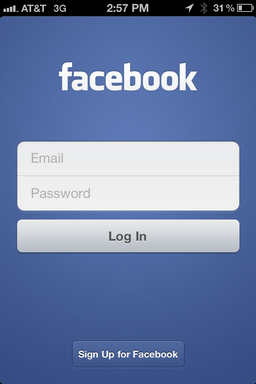 Now you can log in to your own Facebook account and tell your daughter to get her own $#@$@ smartphone. 🙂