Some of my friends on Facebook have tweaked things so that they can have their Facebook status automatically updated when they send out a new Tweet on Twitter. How the heck do they do that?
Okay, I have to laugh at this question just because it so beautifully demonstrates the goofy nomenclature and jargon in our industry – and I completely understand you too, which is just scary! For those that aren't sure what the heck we're talking about, a "Tweet" is a status update on the popular "micro-blogging" site Twitter.
I have been wondering about how to set this up too, particularly when sometimes I connect to Facebook just to find out that all the status change messages from my friends are Tweets that I've already seen through my own Twitterfeed. Honestly, I don't like it: if I wanted to see their Twitter updates, I'd be following them on Twitter.
The secret is to go to the Twitter application within the Facebook world. Here's a convenient shortcut: apps.facebook.com/twitter/. When I go there, it's already aware of my Twitter account, as you can see in this screen shot: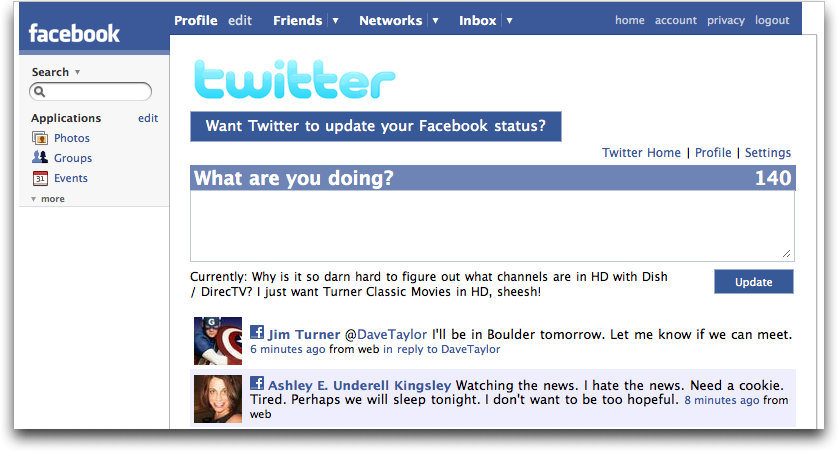 The key link there is the box labelled "Want Twitter to update your Facebook status?"
Click on it. Now you'll get the small print: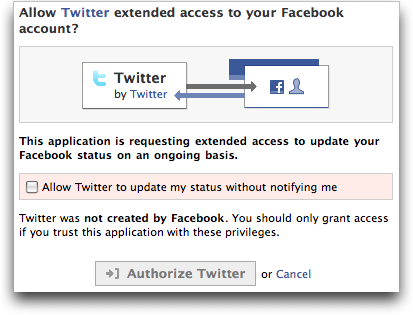 If you're really ready to unleash this on your Facebook pals, check "Allow Twitter to update my status without notifying me" and then click on "Authorize Twitter".
That's all there is to it. Now when you Twitter, you'll get those updates appearing in Facebook too, as I show here: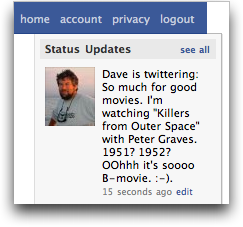 This also aptly demonstrates the problem with this system: Facebook status updates for the Facebook community are likely to be quite different to the Tweets you send to your Twitter followers. I would never have a Facebook status update that demonstrates my gawdawful taste in late night movies, but on Twitter it's par for the course and indeed, I constantly receive amusing comments from my friends about my knowledge of cinema and how it contrasts with the movies I actually watch.
Suffice to say, I enabled this so I could demonstrate it to you, but I'm going to disable it again so that my Facebook updates are only those that I target for Facebook… (which I accomplish by clicking on "edit" adjacent to the "Applications" menu on the left side of my Facebook home page)
Oh, and if you want to find me on these networks, I have a busy Twitterfeed here
Dave on Twitter
and a profile on Facebook too:
Dave on Facebook
, and don't miss the help I have for both services here too:
Twitter help
and
Facebook help
.