I hear that you've got a podcast you record weekly, Dave. How can I find and subscribe to it ( ed note: it's called the Boulder Open Podcast [iTunes link] ) in iTunes? I'd like to give it a shot and find out what you sound like too!
Thanks for your interest! My good friend Michael Sitarzewski (creator of Callisto.fm, among many other things) and I have been recording a weekly 5-10 minute tech discussion for quite a few months now, and while we don't manage to do it every single week, we're pretty close. We talk about a wide variety of topics with a heavy slant towards Apple and towards what's going on in the entrepreneurial hub of Boulder, Colorado.
More often than not, we're in two different places and have our conversation via Skype, utilizing the Blue Microphone mics that the company gave us as part of its sponsorship program. Really easy, and gives us great flexibility.
I have to be candid, too: I never really listened to podcasts prior to us recording Boulder Open Podcast (and a second podcast we're both involved with, but add PR pro — and another good friend — Doyle Albee, for Three Insight [iTunes link]. That one's a lot longer, though, typically 20-30 minutes), so I can remember trying to figure out how to subscribe and get it onto my phone like it's yesterday. 🙂
First step is to fire up iTunes. I'll show how to do this in iTunes 10, but I'm pretty darn sure it's exactly the same in earlier versions of iTunes too. You can always download the latest version of iTunes from Apple.com too.
On the left side, you've probably never noticed, but there's an entry for "Podcasts":

Click on it as a podcasting n00b and you'll find a useful little advert: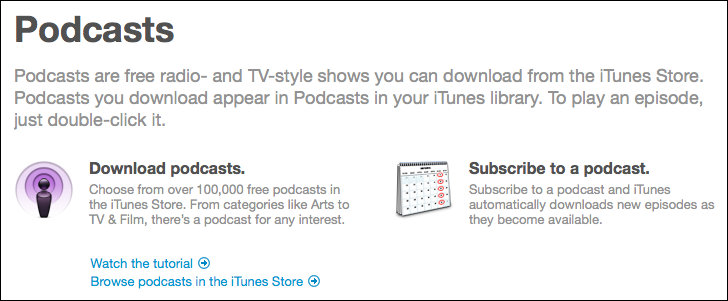 We could browse the podcasts in the iTunes Store (they're free, don't get anxious about the "store" part) but since you know the name of our podcast, you can instead search for it by going to the iTunes Store then typing in the podcast name on the top right:
Press Return and a moment or two later it shows you the matching results for that search, including
Boulder Open Podcast
[iTunes link]:
You can easily "Subscribe Free", but instead click on the icon to learn a bit more about the program and our latest episode names:
See an episode that piques your interest? You can download that one instead of subscribing, but I know you want to hear my dulcet tones 🙂 so click on "Subscribe Free" just below our cheery logo…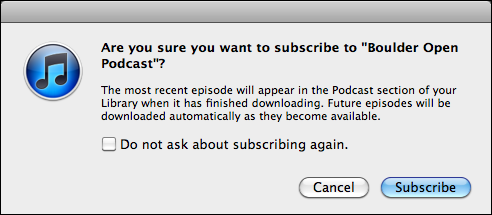 If you're going to be jumping into the world of podcasts — and I definitely recommend you check them out! — then check "Do not ask about subscribing again". Either way, click on "Subscribe" and you're subscribed! Now in your downloads area, you'll notice that the latest episode is being copied from the iTunes Store:
A minute or two later (they're short: the podcasts are succinct!) you'll find that if you click on the "Podcasts" link in iTunes 10, you'll now find
Boulder Open Podcast
[iTunes link] listed:
I'll let you figure out how to click on it to listen to our program without a further explanation, okay? And when you do listen, let us know what you think of our show!