I woke up this morning to find that someone had added me to their Facebook Group. Very not cool. If I want to join a group, I'll make that decision myself. Dave, tell me, how the $#@$#@ do I quit the group? And is there some way to prevent people from automatically adding me to groups?
The most recent change to the way that Facebook envisions groups does indeed let someone on Facebook automatically add you to their group without your permission. I know it's been a mixed blessing for me: some of the groups I'm now in are pretty cool, while others are, well, if not spammy then certainly more self-serving than I'd ordinarily join.
Unfortunately, I can't find any setting that lets you disable automatic group subscriptions, so I think you're going to be careful who you friend and bookmark this page to remember how to unsubscribe from a Facebook group if it's too annoying.
Seems kinda lame really, doesn't it? I mean, if they can have permission to add me to their group, why don't I have permission to change my settings so that they can't do that? Maybe it's a "coming attraction" in the Facebook Privacy settings?
In the meantime, here's how I quit a group that I was recently included in without having any desire or interest…
First off, on the left side of your main Facebook page, you'll probably notice that the group now shows up on your groups list:

The group I'll be quitting is "Cure Cancer Forever". Here's an interesting thing to know, btw: if you hover your cursor over the group name, an "X" shows up which'll automatically hide the group from the list if you so desire:
Problem is, that doesn't unsubscribe you from the group, it just hides it on that list on the left. Not at all what we seek!
Instead, click on the Facebook Group name to actually go into the group…

Now you could click on "Edit Settings" , but you'll find that while those can stop the updates showing up in your Newsfeed…
They
still
don't let you actually quit the group. To do that you need to look on the right side, typically a screen or two down from the top. Eventually, you'll see: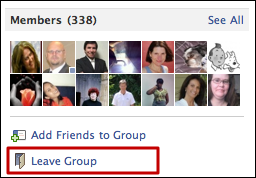 Click on "Leave Group" — finally!! — and you'll be on your way to unsubscribing.

You sure you want to quit, rather than just hide the group updates? If you are, simply click on "Leave Group" and you're out. Now when you go to the Facebook Group page for that particular group, you'll see the cheery "Ask to Join Group":

Now will we see some sort of setting that prevents you from being automatically added to Facebook Groups? I hope so. Meanwhile, well…