What is Windows Defender on my Microsoft Windows 8 system, should I have it running, and how do I keep it updated?
Quick answer: yes, you should most definitely run Windows Defender from Microsoft.
After years of basically ignoring the virus and malware problem that has plagued Windows users for years and years, a year or two Microsoft really battened down the proverbial hatches with the operating system itself (Windows 7 was the first) and released its own utility to help with the never-ending battle against bad software and viruses. That software is Windows Defender and that's why you should be running it on your computer.
Does it completely replace other antivirus software? Depends on who you ask, of course, because the big anti-virus vendors are still hoping you'll pay that $30-$50/year for a subscription to their virus definitions (etc). On the other hand, Microsoft says this: "If your computer is running the Windows 8 operating system, Windows Defender will help protect you from viruses, spyware, and other malicious software. You don't need to buy anything else."
I run Windows 8 with Windows Defender and no other anti-virus software and — knock on virtual wood — so far, so good.
Which leads to your second question: how do you update Windows Defender?
The answer is "it's automatic, so you shouldn't have to manually update it." But… perhaps you see this when you log in:

Notice the white "x" on the red circle on the Taskbar too. Sometimes you won't get the pop-up, or it'll have already vanished without you noticing. If there's an update, however, that "x" will still be there:

In this case, click on it and you'll get a little window with more information: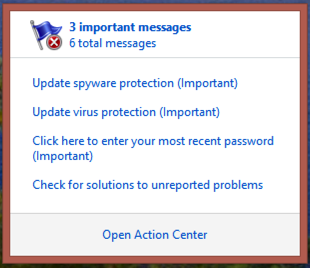 Either of the first two update messages will get you to the Windows Defender update screen, as would clicking on the pop-up window in the first figure. You end up on the Update tab in Windows 8 Defender. Click on "Update" and it'll download the new definitions:
Once the updates have all downloaded, switch to the "Home" tab: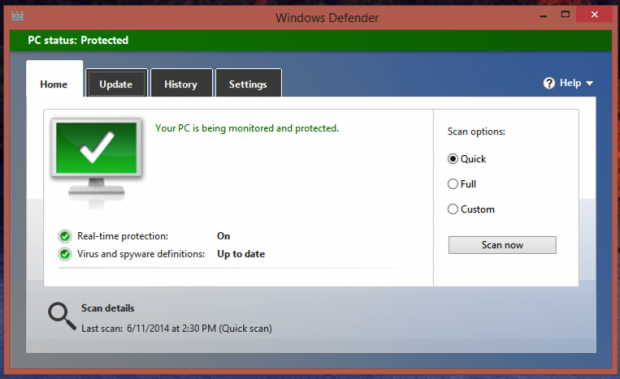 A click on "Scan now" (use a Quick scan unless it reports some problems or you suspect something's messed up) and WinDef (can I call it that?) quickly zips through all the files on your system to ensure that there's nothing suspicious or questionable:

On my system it took just a few minutes and when it was done, a clean bill of health!

That's easy enough, isn't it?