I'm a long-time user of LinkedIn and have found it very useful for finding both jobs and contacts in the industry. Now I need to get a resume together for a possible job and am wondering if there's any tool available that can pull all my LinkedIn career and job data and transform it into a PDF-format resume I can email someone?
I have to admit, when I first saw your question, I thought you wanted LinkedIn to do all the heavy lifting of collecting and formatting the information for your resume, but when I read further, I realized that you already have all the information online, you just want to have it look pretty and be ready to disseminate. Totally makes sense.
The good news is that LinkedIn does have the capability of turning your profile, job and career data into a quite attractive resume, even producing it in PDF format. The down side is if you want to fine-tune things afterwards, well, that can be a bit tricky. Still, let me show you how to do the basics and you can decide if it'll work for you.
One other thing to realize is that there are services that can format all your job data into a very attractive resume using a variety of templates and formats. Heck, you can even turn it into a mini Web site if you want to seem super high tech and sophisticated. But that's the proverbial 'bother story…
For this process of extracting a resume from the data you've entered on LinkedIn, log in to your account, then look on the "Profile" menu along the top: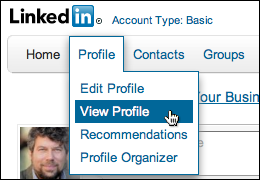 Choose "View Profile" then look along the bottom of the main box of information that appears. Turns out that there are some very interesting features available:
We're interested in "PDF" but notice that you can "Print" directly from here and — perhaps even more interestingly — "Share" your credentials and profile with others on Facebook, Twitter and other social networks. All at the click of a button!
Click on "PDF" and it'll instantly create and download your PDF resume:
(This is the download notification from Apple's Safari browser. Yours might well be different in format or appearance)
Done. Now, double-click on the new PDF file that's on your Desktop or in your Downloads folder and you should see something quite pleasing:
That's it. Quick, simple and quite attractive.
The only wrinkle is that if you want to add something like your home address and phone number, well, that's difficult, but perhaps that's a job for a cover letter anyway?
Good luck to you!