Dave, I'm a big fan of Google and really like Google Earth and Google Desktop. So much so that I've been blogging about how to use these two products. A few days ago someone emailed me saying that I could be getting paid by Google to promote these products on my blog, which sounds awesome. How the heck do I do that, though?
I have to admit, Google has a lot of very cool software included in its Google Pack, including Google Earth, Google Desktop, Picasa, Google Toolbar, and even the Google Screensaver. Everything a die-hard Google fanatic could possibly want!
To make money encouraging people to download the suite, however, you're going to have to join the Google AdSense program. If you don't yet have an AdSense account, however, please read my popular Get Started with AdSense article and sign up through that. (My mortgage payment thanks you! 🙂
Once you're logged in, you'll want to click on AdSense Setup –> Products –> Referrals and you'll see all the many products you can list and make a referral fee upon specific actions happening:
Select "Google Pack" to proceed with your desired link and choose "Continue", you'll see the various text and image links you can use for your referral: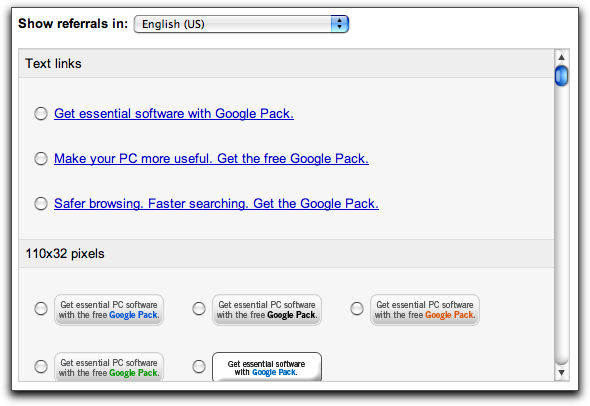 Usually I recommend the text links, but this time, I encourage you to scroll to the bottom of the mini-window and get to the bottom of the 125×125 list:
Tip: If you're going to drop this link on a variety of sites or different areas on your individual site, I strongly recommend you set up a channel or two so you can differentiate results and identify which pages produces which leads and payouts.
Once you've picked a channel — or not — you'll get the usual AdSense code box:
Simply copy and paste that into your pages or templates and you're ready to go. Here's what I get when I copy and paste that into this particular blog entry:
That's what you want to use so you can make a small referral fee on every person who reads your tutorials and clicks on the link to download the Google Pack software pack. Simple, straightforward, and hopefully another method of generating some revenue from your Web site!
And when do you get paid? Well, Google's explanation of the referral fee for this particular link is: "When a user downloads and installs at least one component of Google Pack through your referral, we'll credit your account with up to $2.00 (more details)." So, $2 per download and install isn't much, but hopefully you'll get lots and lots of people who install Google Pack!