I'm wondering what's the easiest way to connect to someone I've met at a conference when I get back to my office and want to use LinkedIn? Some folk seem to use Facebook, but I'm a recruiter and LinkedIn is my favorite. Tips? Suggestions?
First off my compliments. It's definitely a best practice to use social networks to remember who you meet at a trade show or even a business meeting or meetup. Otherwise you just have another pile of business cards to add to the doubtlessly huge pile you already have shoved in a drawer or balanced precariously on a shelf in your closet.
Having said that, you do need to determine which of the social networks is best for you and your interests. Many people have indeed migrated to Facebook as you suggest, but I'm with you: if it's a professional contact and potentially related to a future career opportunity for you (or them, or someone else if you're a recruiter), then the more business-oriented LinkedIn might be a better option.
I'll show you how to search for someone and then request that they link to you in LinkedIn, but you might want to carefully think which is the best for your specific situation.
If you have a business card in front of you, you should have a name and an email address, along with a company. You'll need it.
Here I'm going to demonstrate with my colleague and friend Dave Michels. First, a search:

Search and doubtlessly you'll find that there's more than one match. Find the one you seek:
Before you get too confused about what to do, move your cursor over the proper entry and suddenly links show up:

Like magic!
At this point you'll have a blank form: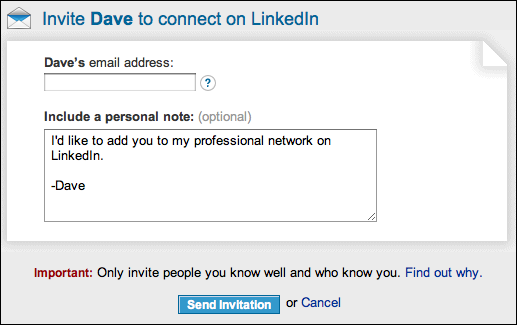 Sometimes, as you'll see in a minute, you aren't asked for an email address, but this time, for some inexplicable reason, that comes up. There's no question, your best practice is to
specify in the note area why you're suggesting they link to you
.
Here's how I filled it out: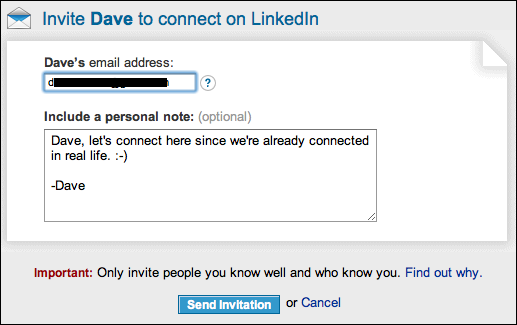 A click on "Send Invitation" and…
Finally, when I tried to send an invitation to a different person, note how the form is significantly different:
Either way, the key best practice is to make sure you fill in the note with details of how you know the other person and why they should link to you. And good luck to you!
Learning LinkedIn? I have a ton of LinkedIn help here on AskDaveTaylor too. Don't miss it!