This is very weird. The SMS messages I get from Google Voice are always from 406 numbers. What's 406 and why is it always from the same place?
Actually, one of the most powerful features of Google Voice is the ability to forward SMS messages. For example, if you want to try a new cell phone/carrier for a week, you can simply forward your old number to your new – but there is no simple way to forward your SMS messages.
The idea behind Google Voice is a single phone number for all of your needs, you then determine how and where to handle the calls. SMS messages use the phone number as the address – and since the Google number is not the same as your cell number, they need to provide an intermediary within the service.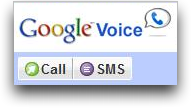 The intermediary in question is apparently located in Montana's area code 406. Google most likely required 1000s of phone numbers and fond them in Montana. When you send an SMS from Google Voice, say to Joe at 303-555-1212, Google translates the address to a 406 number which is now "permanently" mapped to Joe.
The 406 number along with your Google Voice number is a unique 20 digit code now associated with Joe in your account only. When Joe receives the SMS, it will be from your Google Voice number (not a 406 number). This is important – so replies go back through Google Voice (SMS messages addressed to your cell phone's number bypass Google Voice). The only one who sees the 406 is the Google Voice user.
Now the only problem is telling you, the Google Voice user, who the message is actually from. The SMS header will indicate a 406 address. Google will insert into the beginning of the actual text either the real SMS address or if that number is in your contacts, the appropriate name. This of course takes up some space – and if necessary Google Voice will split the SMS into additional messages.
Once you get the 406 number, it appears you can freely use it for SMS and phone calls from a Google Voice phone. It won't work from a phone not associated with your Google Voice account. This dramatically simplifies outbound Google Voice calls which can only be initiated otherwise from the web portal or telephone attendant system. There are two reasons to make outbound calls from Google Voice, one is free domestic (and SMS) calls with inexpensive international and the other is to keep your private numbers private.
Another key benefit to running your SMS messages through your Google Voice account is all SMS messages (in and out) are stored in your GoogleVoice inbox; complete with Google search.
---
This blog entry was written by contributing editor Dave Michels, Telecommunications Protagonist at
Pin Drop Soup.com
and Principal of Buffalo Communications, Denver.