I've been working for almost a year on building my online business and after having attended a couple of conferences and talking to a lot of different people, I'm pleased with the progress I've made. However, I'm a big believer in my Dad's adage that to be a winner you have to hang out with winners, so I'd like to ask you, Dave, what groups are you in? Where do you hang out online? Where would you recommend I connect to other successful entrepreneurs?
Great question, but there's a bit of a dilemma here: If I tell you the answer to your question, I'm going to also have to kill you. No, just kidding! 🙂
I will admit, though, that I am involved with a couple of closed discussion groups, one of which my friend radio personality David Lawrence humorously describes on air as "the cabal that shall not be named." 'nuff said about that one, however.
The best way to find discussion groups in my experience is to ask around when you're at entrepreneurial meetings like the Affiliate Summit and The System Seminar. Also, when you find individuals who strike you as particularly savvy, plugged in and willing to give back to the community, ask them what groups they're involved with.
Let me also tell you about a new discussion forum that my friend Lee Dodd just created that I've joined and hope to watch grow into just the type of venue you seek. Before I do, though, a very brief snippet about Lee: he runs a number of large, popular and quite profitable online forums, including SprintUsers.Com, ZeldaUniverse.net, CruiseLineForums.com, BigBoardAdmin.com and, ForumTrends.com. Needless to say, he has tons of experience building successful online discussion sites.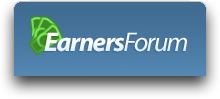 The new forum in question: EarnersForum.com. Lee describes it this way: "Earners Forum is the ultimate resource for those earning income through web business. You will be surrounded by like minded individuals and have access to some of the top web publishing earners. There are multiple private forums that you can gain access to by registering and filling out the application. This is where the talk takes place that you don't want the public to see. This forum provides for excellent networking opportunities and amazing information from a wide variety of internet masterminds."
It's not the public forums that interest me, as you might imagine, but the private forums with a small, screened subset of the forum community who meet certain criteria. I'm sure that's where you'd want to hang out too, and from your question, it sounds like you'd be a shoe-in too.
If you're doing business online, you'll also appreciate the importance of behavioral incentives. Lee does: as you can read on the site, he has a contest running with thousands of dollars in cash, training and additional content to motivate new members to contribute their experience and ideas to the group.
I should know, one of the prizes is my own Business Blogging Workshop. There's lots of cool additional stuff too, however, including a copy of Aaron Wall's terrific SEO Book, David Beroff's LeadFactory Lead Package, and Mark Widawer's Landing Page Cash Machine. Good stuff from good folk.
Whether or not you're interested in the contest, I think you'll want to check out the Earners Forum, so I encourage you to join today, then request access to the private forums. Hopefully I'll see you there!
Also, don't forget to join my Blogsmart News list for my weekly tips on business, blogging and online marketing. It's free, it's fun, and it's solid insider info you can't find elsewhere.
Note: In the interest of full disclosure I do want to state what should be obvious: Lee is a friend and I am trying to help him grow this new forum. I won't see any financial remuneration for my efforts, however, other than an occasional quid pro quo on promotion and a cup of tea when Lee and I find ourselves in the same city. There are lots of other good places to meet successful online businessfolk too, and I invite others to post their own favorite forums or discussion lists here as comments.