I've had a Vizio TV for about a year now and suddenly it's telling me that it updated the software and I need a new remote control? What's happening?
I have the same TV series from Vizio, the M-Series, and it was a bit of an experiment for the company, putting all the smarts into an Android tablet that connected with the TV via Chromecast. A bit funky, but I definitely got used to it, and of course built-in Chromecast is fantastic since it's super easy to push video content from just about any device, whether an iPhone, Android, Mac or Windows PC. Problem was, the connection was a bit spotty and there were times that the tablet simply didn't see the TV at all, making a Netflix binge a bit problematic.
What I didn't realize is that my Vizio 4K TV has just as much smarts built into the device as other generations, and what the company did was enable what they call Vizio SmartCast on the TV through a scheduled software update. One day I'm using the tablet to watch content, the next day I'm suddenly seeing app icons on the TV itself, ready to go. Sweet!
The only wrinkle is that the original super streamlined remote that came with my Vizio unit doesn't work with SmartCast because you need, well, arrows. So Vizio is sending everyone a free remote control. Darn nice, really.
Here's how the whole sequence went down on my TV. I was watching a program and suddenly this showed up: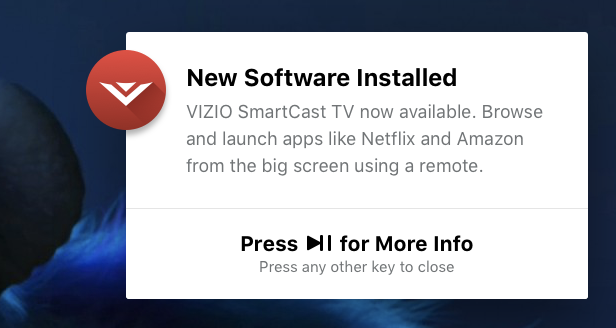 Hmmm… that's interesting! I clicked on the >|| button on the remote and for the first time ever on that television, had SmartCast TV launch: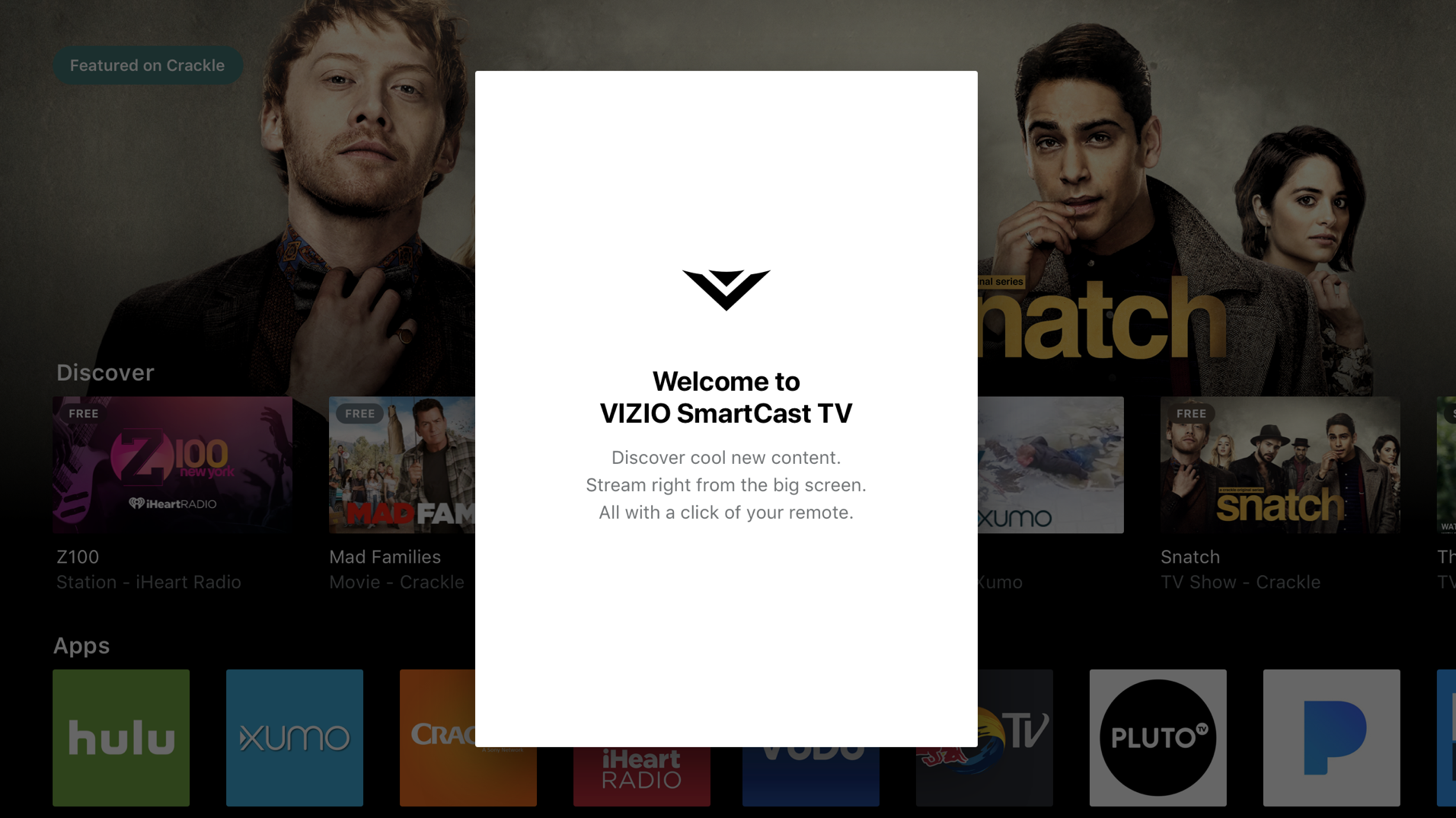 There are the biggies, like Netflix, Hulu, Amazon Video and IHeartRadio, but there are some interesting alternative streaming options that showed up too, including Crackle (owned by Sony), Pluto and VUDU.
Another click of my remote and I learned that my remote was insufficient for the new capabilities…
What's funny here is that it says "press right arrow to close" even though it knows I have a remote without arrow keys. Dilemma! Luckily I'd already downloaded and paired the Vizio SmartCast Mobile app for my iPhone, so used that instead.
Before I did, however, I went to the URL specified — vizio.com/remote — and entered my four letter code:
Easily accomplished, and soon the message changed to a confirmation that my new remote was on order and would be shipped directly to my house:
That's the entire process. Grab the app, keep using your TV and enjoy the fact that you can use the tablet and push content onto the TV if that's your preference, or use the SmartCast TV system and get familiar with the built-in apps.
About 7-10 days later, this sleek remote will show up in the mail:

Very nice, and convenient shortcuts for Amazon Video, Netflix, Vudu and more. I like it!
and now, back to my Netflix binge…