I simply want to forward a joke to several people in Gmail, but can't figure out how! If I click on the drop down by reply, then it opens up the TO: In regular email, you click on the TO and it opens up the address book and you can then select whom you want it to go to.
How do I get my address book open, select the people I want this to go to
and have them appear in the to window. I have been reading on the internet and talking to people, and we are all having the same problem. This does not seem to be a user friendly email. I generally don't have problems adapting to new software.
When I first read your question I popped over to Google's Gmail and saw exactly the problem you were talking about. I mean, there's no "open address book" link on the compose message page. However, the reason you can't do it that way is simply because that's not how you use Gmail in the first place. 🙂
Instead, the entire idea behind their address book is that you can simply type in the first few letters of the name of the person to whom you want to send your message and it'll pop up and be easily selected. Like this: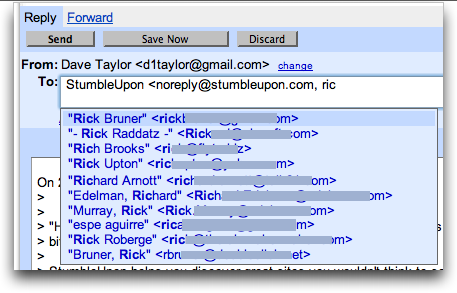 You can see that I've typed in
ric
and it's promptly popped up with all the possible matches. Some of them are from email I've sent or received, and others are from my address book. Simple enough!
Another way you can do this if you really want to use your contact list / address book in Gmail is to open up the list by clicking on
Contacts
, checking off the boxes of the folk to whom you'd like to send a message, then clicking
Compose
: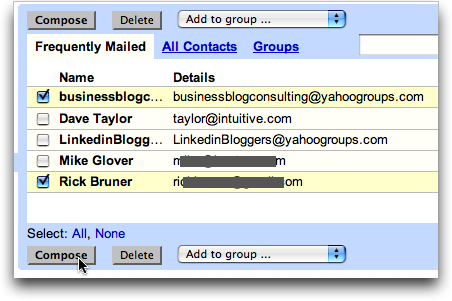 Then just copy and paste the message you want to forward along. Note also that you can create a group of your frequently sent recipients and simply type in the name of that group to have a simple and elegant shortcut. See:
Create a Group in Google Gmail
.
Hope that helps clarify how to work with Gmail in this instance. If you're still curious, I have quite a bit of
Gmail Help
here on the site too.