How do I turn my iPhone 4 off for airplane travel? I think that's called "airline mode" or "airplane mode"?
I think the key question in this situation is whether you want to be a good citizen and really turn your iPhone off completely for take off and landing, or whether you just want to disable the wifi and cellular portion of the phone circuitry and otherwise leave the phone on in your pocket.
The airlines would have you believe that it's a safety issue, that all electronics need to be completely shut down on take off and landing because I guess the theory is that it could interfere with the onboard airplane electronics. Then again a quick Google search reveals that there are a lot of reasons to be skeptical of that claim and certainly the team at Mythbusters have some pretty compelling evidence that it's all a bunch of hooey. [search the Mythbusters site for a link: I can't figure out their deep linking system, unfortunately]
Anyway, I'm going to answer this two ways to hedge my bets – and yours, in case we're on the same flight – and show both solutions.
First off, to power down your phone, you need to hold down both the home button (bottom front of your phone) and the so-called "wake/sleep" button on the top right edge. Hold both of them down for about ten seconds and you'll see a red "slide to power off" control appear:

Slide it to power your phone off. When you're ready to turn it on again, simply push the sleep/wake button for about three seconds and the phone will gradually come back to life. It does that by showing you the Apple icon against a dark screen for about 20-30 seconds, then it's back and ready to go!
But perhaps you're a skeptic and would rather just put your iPhone into "Airplane Mode". Turns out this is extraordinarily easy to do. Just find the "Settings" icon and tap on it. Now look at the top of the Settings screen: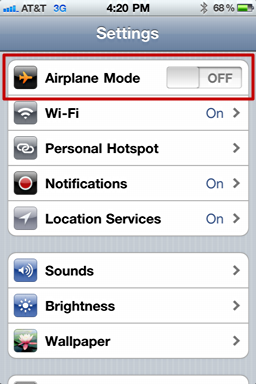 Yup, that top one does the magic. Move the slider to "ON" and your phone can no longer connect to the wifi or cellular network. When you're ready to jump back on the Internet, just flip the switch to "OFF" and you're good to go: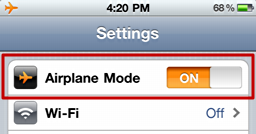 Now the truth: since I have an iPad that's my favorite in-flight device, I always power down my iPhone 4 when I'm on a plane, so I can conserve battery. I mean, why not?