Hi Dave. I've seen your earlier article on how to tweak my text message notification beep [see iPhone beep repeatedly on new text messages?] but now that I'm running iOS 5, it no longer works. On iPhone iOS5, how can I change this notification setting?
You're right. One of the biggest – and best – parts of the update from iOS 4 to iOS 5 firmware was the inclusion of the new notification center. It's so good that I wonder how I ever managed to work with my phone prior to it being available, particularly as I get notifications from almost 20 different services now, including Facebook, Google Plus, Foursquare, email, text messages, and even OnNow.
The settings and configuration has changed, however, and if you're just starting to explore iOS 5 notification settings on your Apple iPhone 4 or 4s, well, it's a completely new area in your Settings.
Rather than just talk about how change is good, we need to adapt, etc, let me just show you how to get to the area that specifies if iOS 5 is going to repeat notifications on text messages you've received. Good? Good!
To proceed, you'll need to tap on Settings, the icon with the wheels and gears that looks like your iPhone should be a watch if you pop off the screen. You'll see this: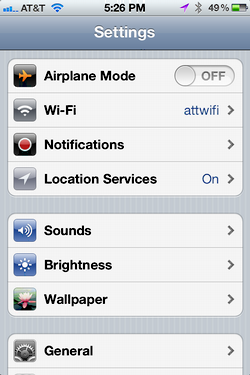 Now, tap on
Notifications
as that's where all the notification settings are neatly organized: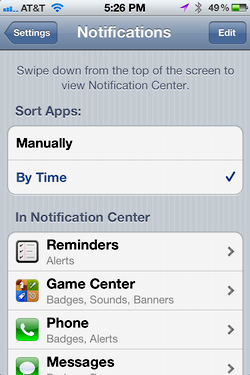 You might be surprised just how many apps and services on your iPhone can send you notifications, but this'll show you the entire list. Oh, and everything we're doing in this how-to tutorial? It applies exactly as shown to your iPad too, if you have it set up with iMessage or similar to receive text messages from other iOS 5 users.
To change the settings for text messages you'll want to tap on "Messages", which you can just see at the bottom of the list in the image above.
Now you'll see the options: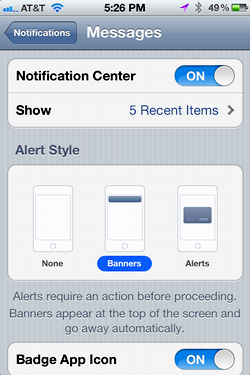 None of these are what you seek, but it's nice to recognize that you can change whether a particular service can post notifications, how many should show up on the pull-down summary screen, and what style you prefer. Me? I love "banner" style and use it for everything.
Scroll down a bit, though, what you seek is lower down on this screen…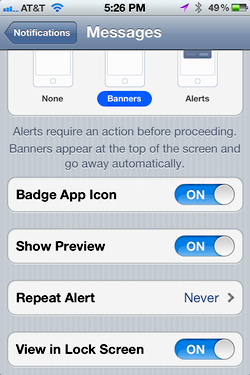 That's where the pesky setting is hiding:
Repeat Alert
. Sounds like you have it set to something other than "Never", as you can see I have already configured. To change it, no worries, just tap on the "Repeat Alert" area and you'll see all the options: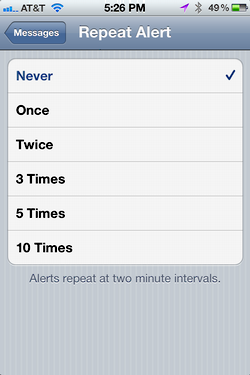 Now tap "Never" and you've disabled the repeat text message alert notification in iOS 5. Congratulations!