I wonder if you can help me with a problem i am having regarding editing an excel spreadsheet, which is driving me mad: I use a Mac Powerbook that has the Microsoft Excel 2008 programme installed. My secretary has a PC upon which is stored all the work files. My Mac is networked to her computer, so I can access all the work files and edit them, print them etc. No worries.
The problem I have is this. My secretary types an excel spreadsheet with 5 columns. She can print it and all 5 columns appear on the page. I can access it and look at the page and all the 5 columns appear. However, if I go into the document and edit it, by say correcting an error, I notice that as soon as I go into the document, a dotted line appears down the right hand side of the page, between the 4th and 5th columns and then if I print it, only four columns appear on the first page and the fifth appears on its own on a separate page.
I have looked at the widths etc of the page set up and they appear the same.
Any ideas as to how I can get it to print all the text on the first page ? I am thinking it is a simple setting adjustment but for the life of me, I cannot work out what to do.
Having spent a lot of time working with spreadsheets, I know exactly what problem you're encountering and, ironically, I can explain the solution in less words than you used to detail out exactly the problem you're facing with Microsoft Excel.
First, though, I want to point out that this is a problem (or 'feature' depending on how you look at it) that's been in just about all versions of Excel I can recall using, so it's nothing new that's showing up in Microsoft Office 2008 for Mac OS X, that's for sure!
The problem is that the print area hasn't encompassed all the active cells in your spreadsheet because of nuances in font sizing, column widths, default margins for your printer, etc etc.
The way to fix this is to simply select the entire active cell region by clicking and dragging, then choosing File –> Print Area –> Set Print Area: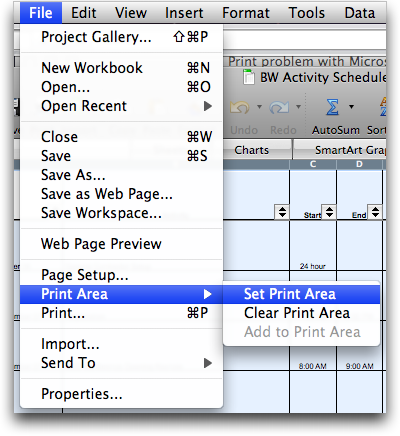 Now you've defined what columns you want printed, you also need to see where the dashed line falls on the page: If it's between the fourth and fifth column (which is what I expect will occur) you need to make another tweak…
Choose
File
–>
Page Setup…
and you'll see: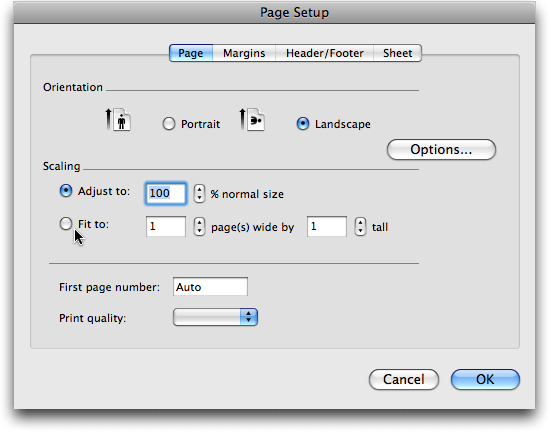 As you can see where the cursor is pointing, you'll want to select "fit to" and choose one page wide by one – or more – pages long, depending on your spreadsheet.
Between these two settings you should be good to print!