One of the things I've most disliked about the Amazon Kindle was its lack of parental controls. It's ridiculous that the company wants me to hand one of these devices to my child and then won't let me manage what they can access while they're ostensibly reading an ebook on it. The newest Kindle apparently has these controls, though, so can you show me how to enable parental controls on the Kindle Fire HD?
You're right that one of the greatest limitations on the Amazon Kindle has always been its poor implementation of parental filters or controls. It's as if no-one at Amazon actually has children, or – more likely – that they don't care what their children do online so don't feel that there's any need to monitor or manage access. Either way, fine for them, but not so fine for the product and its possible uses with parents that do want to have some ability to control what's going on.
In previous discussion, we've heard again and again that Amazon support's answer has been to disable whispernet and otherwise take the Kindle completely offline, but unless your wifi all requires passwords that you don't share with kids (and they never go to a place with an open public wifi network, like the public library or local café) it still doesn't address the issue.
That's why it's so nice that the latest Fire HD includes version 7.1.5 of the KindleOS (built atop Android) that offers extensive parental controls. Let me demonstrate…
First off, here's the main screen on the Kindle. Same as other Kindles, if you've tried one, but with the addition of a gorgeous, vivid color screen: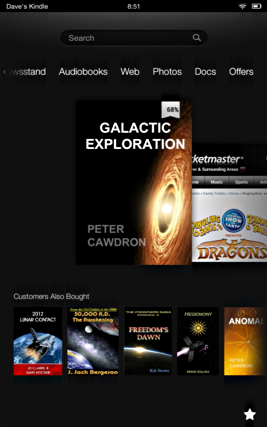 You can see I'm in the middle of Peter Cawdron's book "Galactic Exploration" and was previous looking at tickets for the Ringling Brothers, Barnum and Bailey Dragons show.
To get to the system settings, simply swipe down from the time display at the very top of the screen. A menu appears:

As highlighted, tap on "More" to get to the full set of system settings: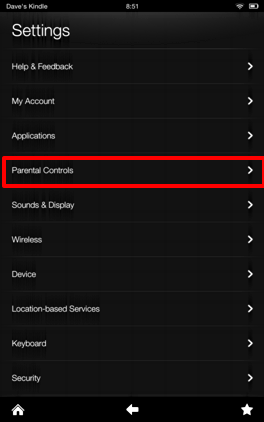 Parental Controls is about half-way down. I've highlighted it to make it easier to see in this screen capture. Tap on it.
Ready to enable them? Tap "On":

Now the system will ask for a password. I strongly encourage you to make it a complex phrase that your children are unlikely to guess (otherwise it rather defeats the purpose!)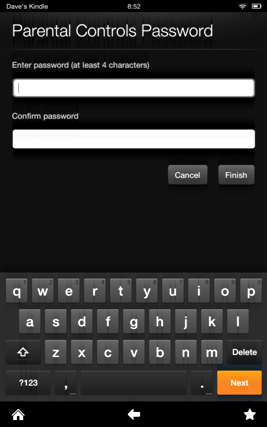 Once you've entered the password twice, tap on "Next" or "Finish" and you'll see the full range of controls that are now enabled:
Since the screen capture is a bit small, I'll list them too: Web Browser, Email, Contacts and Calendars, Password Protect Purchases, Password Protect Video Playback, Block and Unblock Content Types, Change Password and Password Protect Wi-Fi.
Clearly the development team at Amazon was listening very closely when we complained about parental controls as they've done a great job of giving us tons of control in this newest Kindle OS!
Tap on "Content Types" and you can see that you can even block on a more granular level: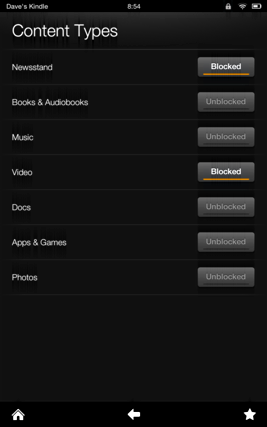 I've blocked Newsstand and Video, but left everything else open, as you can see, though since I have also enabled the Wi-Fi Password feature, my kids still can't really get very far with the device.
In fact, an attempt to access the Web once the password is set produces this: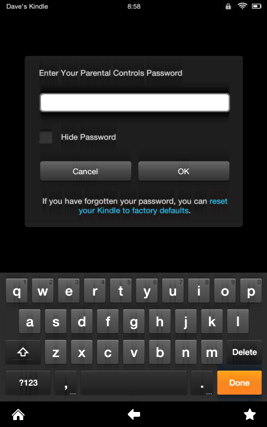 Very nice job, Amazon. A much-needed update to the Kindle OS and it works very smoothly so far. Then again, I haven't invited my son to try and hack into it yet, so we'll see what he can do when given the opportunity!