It's about ten seconds after you empty the trash on your Mac OS X system that you realize you haven't had a successful backup for two months and that critical report for the boss is no longer on your Desktop. If it went into the Trash and you then emptied the trash, you're out of luck. Time to get some Red Bull and pull an all-nighter recreating the document.
Or is it? With the addition of Time Machine, Apple has a nice built-in file backup system that also helps with version tracking, but if you don't have it set up properly or simply haven't run a backup between when you created and accidentally deleted the file, it's not going to help you out.
That's why I was enthused to install and experiment with Remo Software's popular Recover Mac program (they have a matching app for Windows users too). To test it, I deleted various files and tried to recover them a few minutes, hours, or even days later from the file system.
We delete files and other data all the time. If you're still in the program, you can often undo back to the previous state, even when it's ten or more actions later (we just did that in Pages, stepping back fourteen actions to recover a deleted paragraph), but sometimes it's not a matter of getting an earlier version of the file but instead backing up to the point in time when the file was pristine.
And should we talk about lost photos too, now that the proverbial shoebox full of snapshots has long since been replaced by a hard drive full of digital images that – more likely than not – aren't backed up at all and would be a horrible thing to lose due to a drive failure or user hiccup. Oh, and that happens on digital cameras too, an overzealous teen who hates your pics of them so deletes every single picture on the SDCard…
Recover Mac includes utilities that can help in all of those situations, and at $59 for the basic package ($69 if you want to be able to recover lost photos from SDCards, etc), it's quite a bargain, certainly so if the alternative is that you have to stay up all night and turn in a semi-incoherent school essay or report to the boss.
Having said that, the most common scenario for this software is that you realize you need it after a catastrophic event, in which case you need to heed their warning before installing the utility: "Please make sure that you are not downloading the software to the same volume / partition from where you are recovering lost data. Downloading, installing the software or saving any files on the same volume can cause lost data to be erased permanently."
If you don't have a second Mac system, you might need to get a friend involved if your recover job is related to the Mac system: in fact, best practices suggest that you stop using the computer immediately until you are ready to attempt recovery because each time you do something, you increase the chance of corrupting or overwriting the data.
To test it, I did everything wrong: I launched the application, then while it was sitting ready to go, I created a Word file — ingeniously called "lost and found.doc" — and moved it into the Trash, then emptied the Trash. Could it recover the otherwise lost file? Here's what happened…
First step: really delete the file. No holds barred, just make it vanish:


Now with it permanently gone from my Mac system, let's see if Remo Recover (Mac) can recover it. Launch the program and there are two basic options: recovering deleted or lost files:

I want to undelete the Word document, so I'll click on 'Recover Deleted Files' in the program, which then shows me the available volumes to analyze:

At this point you should theoretically see more than one drive because as a good citizen you of course heed their warning about not running the program on the same drive you want to try and recover files from, right? If so, pick the right one. If not, well, we're in this boat together, so click on the only drive that's available and let it analyze the file system: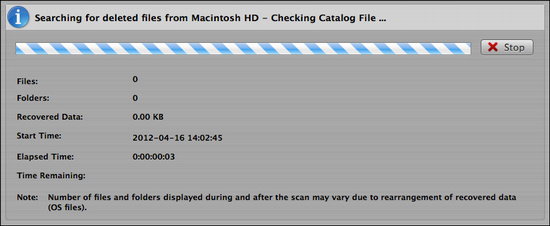 Some time passes — about five minutes with our 500GB drive — and it's done with the scan:

Click "OK" and you can start exploring what it's found on your file system:

Here you can see something interesting: it's found the deleted file, but the version it has is from immediately after I copied it from a different document (yes, i cheated), not the version from after I did a file rename just before I dragged it into the Trash. Still, I'll credit the software with success for finding and letting me easily recover the lost file.
Remo Recover (Mac) is a classic example of a program that you'll probably never download and install until you're in crisis mode, freaking out and sweating over hours, or even weeks of work potentially lost, a folder full of irreplaceable photos, raw video footage, etc. At that point, it's worth just about any amount of money if it can recover that potentially lost data, which it clearly can do, and can do far better if you
immediately
power off the affected computer and run the program from a second system that can access the first as an external drive.
Tip: use what we Mac people call "firewire target mode" to reboot a Mac into a mode where it just looks like a remote hard drive by restarting with the "T" key pressed until you see the Firewire icon appear. More details at Apple:
Working with Firewire Target Mode
.
The only criticism I have of Remo Recover is that I found the license approach a bit more complicated than necessary because the license key I got needed to be entered onto a Web page that then transformed it into something the program itself would understand. When I see a window like this, however:

my automatic assumption is that the license key I have is sufficient for the instant online activation, so being shunted off to a Web site to enter further data is more than a bit confusing. Still, you probably won't experience this because you'll simply be prompted to purchase a license code online as you go to save the recovered file or files.
Otherwise, Remo Recover Mac is a splendid insurance policy, a program you can just install and leave on your computer for that proverbial rainy day when you do realize you've just lost or accidentally deleted mission critical or irreplaceable data. The fact that it can also work with accidentally deleted photos is a big plus (for a $10 upgrade) and makes the "media" edition a must-have for just about everyone.
Disclaimer: Remo Software sent us a license key for the purposes of this evaluation and also paid a nominal prioritization fee to ensure the review would be published in a timely manner.