What do you get when you take a team of specialist mercs with nets, flamethrowers, tranquilizer rifles and grenade launchers and tell them to survive against a ravenous horde of dinosaurs? Primal Carnage. Lukewarm Media's dino debut game released late 2012 on the PC (via Reverb publishing) with quite the roar,but at its release, was simply riddled with game-breaking glitches. Now that this unusual player-versus-player title has more or less come out of its infantile beta stage, is it worth it?
Well, Primal Carnage is what happens when rock-paper-scissors shooter combat meets Left 4 Dead and Jurassic Park (minus the zombies)…
There are five human classes: The Assault, armed with what else but an assault rifle with a built-in grenade launcher, the Pathfinder, with a powerful shotgun and dino-blinding flares, the Scientist, with a sniper rifle and tranquilizing pistol, the Pyro, who totes the obvious flamethrower, and the Trapper, who wields a net gun and dual mismatched pistols. The humans play in a first-person perspective.
On the Dino side, there's even more variety. The Pteranadon is the scout, revealing human prey to other dinosaurs as well as picking up and carrying single targets into the air, only to drop them from a fatal height. Novaraptors (which you almost certainly know better as "raptors") can pounce on humans not unlike the Hunter from Left 4 Dead. Pouncing on a human disables and quickly kills them, but immobilizes the raptor until the kill is complete. The Dilophosaurus is a cat-sized biped that sprays volleys of blinding acid. The Carnosaur is a somewhat more hulking dino with the ability to charge through and knock aside humans, and finally… yes, there is a Tyrannosaurus Rex, a veritable tank of scaly death that both eats and crushes its enemies. The dinosaurs play from a third-person perspective.
Can anyone detect balance issues yet? Anyone?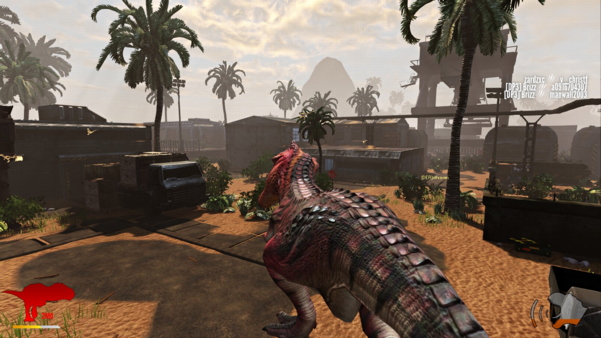 The massive Tyrannosaurus is pretty intimidating at first with its ground-shaking stride and rumbling roar
It's a fact of life. Some classes, such as the Carnosaur and Scientist, simply do not accomplish as much as other classes unless their players are skillful. Humans overall, in fact, require significantly more skill than their saurian enemies – victory as the humans is rare despite their powerful abilities and weapons. For instance, the Assault has three grenades in his assault rifle that will instantly kill smaller dinos and severely injure larger ones.
As they play in first-person, however, simply seeing a raptor or, heaven forbid, a Dilophosaurus approaching is difficult if not impossible through the thick flora that nearly blankets every map in the game.
Unfortunately, the downsides to an otherwise fun and interesting game extend their filthy tendrils into other areas as well. There are currently only two game modes, one of which is only in its beta stage: Team deathmatch, the obvious and straightforward mode where the first team to reach a set number of kills wins, and Get To The Chopper, which involves the humans, well… getting to the chopper. Worse, there is a terrible lack of maps. There are only a few arenas in which either game mode can take place, and they grow tedious.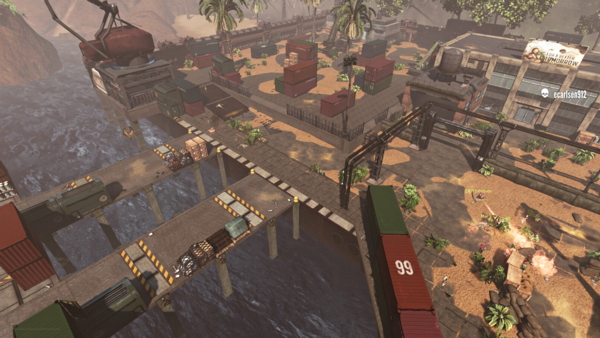 Pictured are at least 11 players. This only shows about one third of the entire map.
Dinosaurs have their own problems. They feel terribly clunky to control at times, and their collision is… odd. I've successfully eaten humans through walls as the Tyrannosaurus dozens of times because my head doesn't have collision. Pteranadons are difficult and confusing to take flight with. They're easy to control once they're in the air, but new and experienced players alike can be seen ìhoppingî while playing them ñ that is, attempting to take off and simply failing.
The question, ultimately, is whether or not Primal Carnage is worth the small pricetag given the rough-around-the-edges mess the title composes.
Thankfully, between the active player base, simple, fast-paced gameplay and beautiful graphics, I maintain that Primal Carnage is certainly worth the $15. I highly recommend grabbing a friend to play with and/or against for added fun. Primal Carnage is available on the PC at
http://store.steampowered.com/app/215470/
. Primal Carnage is developed by Lukewarm Media and published by Reverb.
While not facing down Rexes with only a pair of pistols and sheer stupidity, Zach Comm writes gaming-focused articles at
GameCheetah.com