A lot of noise-reducing devices have passed through our offices, and I've had many in-flight opportunities to test things and see how they work, but even with that, I have to say I am astonished at how extraordinarily well the Nokia BH-905 bluetooth headphones work when the automatic noise reduction is enabled.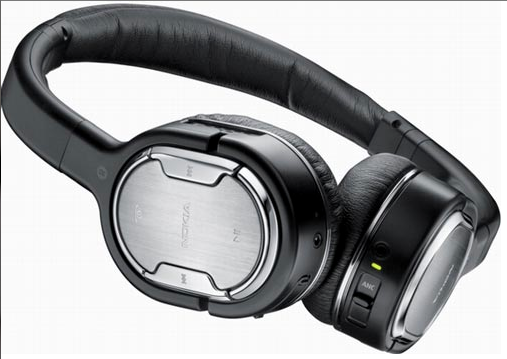 Nokia BH-905 bluetooth stereo headphones
Which isn't to say that these are perfect, because they're not. In fact, there's a design flaw that I found incredibly frustrating and which caused me to more than once pull them out of my bag just to find them dead…
I'll start with the good news. As I said, these are great headphones, comfortable, lightweight and they have a nice, full sound. They don't fold up but the earpieces do swivel so they get fairly flat for storage in your bag or backpack or in their rather astonishingly large hard carrying case (think portable CD player).
They pair with any A2DP stereo-compatible bluetooth device, and I tested them with both an iPhone 4 and a MacBook Pro: the former was occasionally tricky to get reconnected, but the MacBook Pro worked flawlessly every time. I found the range to be sufficient that I was listening to music upstairs at my house with the laptop sitting on the downstairs table, no skips, no hiccups.
In fact, when I simply turned on the headphones, I'd get this on my MacBook Pro screen: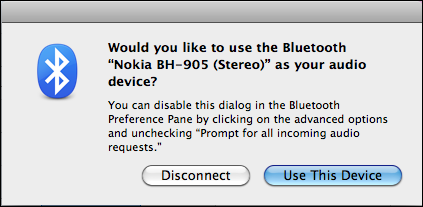 Makes it pretty hard not to have things work properly.
The left ear assembly has the active noise cancellation (ANC) controls (which works on both ears, of course): there's an on-off slider switch and a small light that indicates whether it's enabled or not. The left side also has the tiny jack for the wall charger device.
The right assembly has a surprising number of controls, including bluetooth power, play/pause, next and previous, volume up/down and a standard jack for wired audio input if you're using a device that's not bluetooth compatible. It also has a small indicator light that flashes green if not paired, blue if paired and turns red to indicate you're powering it down.
Though some of the information I read online suggests otherwise, I found that the controls on the headphones worked great with iTunes, and found that I could pause, switch to other songs, and change the volume without touching the computer itself. Darn helpful.
THE DOWN SIDE
The problem I had with the BH-905 headphones is that it's really two completely independent audio circuits, one for the noise canceling ANC system, and one for the bluetooth stereo headphones capability. This means that if you have both of them on for listening to music at, say, a Starbucks (as I am as I type this in) you need to remember to turn them both off to conserve battery for the next time you use the unit.
That's what I kept forgetting: I'd push and hold the power button on the bluetooth subsystem until the indicator light showed red, then put them into my computer bag. With, you guessed it, the ANC system still on and sucking up battery. By the next time I pulled them out, the battery was completely dead.
I suppose people could use these as noise reducing headphones without also wanting to listen to music or engage the bluetooth capability, but I wish that the two were tied together so that if I turned off the bluetooth it would either immediately turn off the ANC system or start a 5 minute timer or something.
Of course, what would really be cool would be to have a proximity sensor so the system could recognize that it wasn't on someone's head and shut down automatically, and with a street price of $250, the extra $5 in parts wouldn't make much of a dent in the profit margin of the unit.
Once the headphones were dead, the other limitation arose: there's no way to charge the headphones via mini-USB, micro-USB, or any other computer-based connector. The only way is to carry the wall charger unit with you too, and while it's small and compact, my goal is always to carry less things, not more. This one might be trickier to fix, I admit.
There's also a built-in microphone so the BH-905 can work as a headset for making calls on a Skype connection or on a cellphone, but when I tested it, the party on the other end did say that I sounded like I was in a tunnel. Disappointing, but since that's not a primary use for them – for me, at least – I wasn't too upset about its mediocre call performance.
ULTIMATELY
If you can remember to flip both switches to off, these really are good headphones with the best active noise cancellation system I've ever experienced. I put them on in a noisy environment and it's really amazing how the background audio vanishes. In fact, it's startling when I take them off that there's been so much noise around me.
Are the Nokia BH-905's worth $250? If you are constantly in loud environments or are a frequent traveler who seeks both the convenience of bluetooth stereo headphones and industry-leading noise cancellation technology, then yes, most definitely. If you're a weekend warrior, however, there are a number of lower cost options that do quite a decent job and leave you enough extra cash to splurge on a few new DVDs.

Disclosure: Nokia sent us the BH-905 headphones without charge for the purposes of this review.