I am a new myspace user. I know what a blog is and how to create one. What I don't know is what the implications of "subscribing to the blog". What does this mean exactly, for the subscriber and subscribee. Thanks!!
What an interesting question! I've never really dug into the MySpace Blog capability from that perspective before. So let's have a look!
If you're only interested in keeping track of what one of your friends is blogging about, there's really no point in using this feature as you can just as easily pop over to their profile and catch up on the latest. Subscribe to more than one, however, and the value will become immediately obvious.
First off, you subscribe to a blog by finding the MySpace profile of a friend or new friend who is actively blogging and click on "Subscribe to this Blog":


You'll then be asked to confirm your subscription: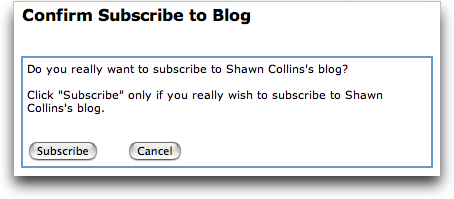 Do this for a half-dozen of your best pals and now you'll have a single spot where you can keep track of what everyone's blogging about on MySpace. Simply click on
Blog
on the top navigational bar:


and here's what you'll see:


Slick, isn't it? You can see that Shawn's the most prolific of the bloggers I track, but there are also postings from Tara and Kate Bush mingled in there too.
So that's the benefit for subscribing. The benefit for having subscribers is that you know that you have a readership for your writing, an audience. Anyone who is writing or blogging for their audience definitely wants to know that they're not writing to a void, so knowing you have a few, a dozen, or even hundreds of subscribers is a great feeling!
You can check to see if you have any subscribers to your own blog (you are blogging on MySpace, aren't you?) by scrolling up and looking on the blog page for your "Blogging Control Center":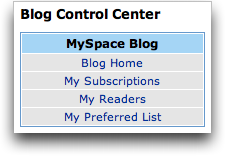 Click on "My Readers" and you'll get a nifty list of whatever subscribers you may have:


So it's not hundreds of people, but even a dozen is a nice little starting audience for MySpace, and I can see that my pal Sherman Hu is a faithful reader too. Nice!
Anyway, I hope that helps you understand the benefits of both subscribing to a MySpace blog or two and the benefits of having subscribers (readers) if you're blogging on MySpace.
Two extra bonus links:
Dave's MySpace Profile
and my extensive list of MySpace articles, at
MySpace Help
.