I have very few contacts in my iPhone phone book, so as friends and family call me, I want to save those numbers as new contacts. It's supposed to be easy. Can you step me through, slowly, so I can figure out all the steps for myself? Thanks.
I've been using iPhones for so long I can't even imagine what it's like to not have hundreds upon hundreds of phone numbers stored. In fact, I have 655 contacts which probably represents over 1000 phone numbers given how many people have mobile and home numbers, mobile and work numbers, etc. (scroll to the bottom of your own Contacts list in the Phone app to see how many you have)
You're right that it's really easy to save incoming numbers as new contacts and use that as an easy way to expand your own phone book. In fact, once I show you, I bet saving numbers will become a habit, as it has for me: My goal is to never have to enter a number twice, for example.
I'll demonstrate with the phone number for Saddleback Hospital, a number I've had to call too many times in the last few days for some family health issues, unfortunately.
Here are the steps required…
First off, here's my "Recents" list that includes the most recent call to the Hospital, the very first number on the list: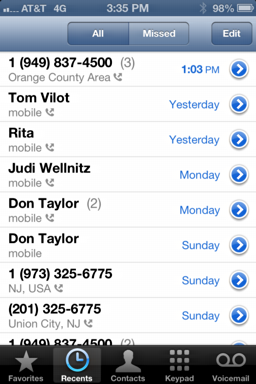 Notice that adjacent to each number is the date/time of the call (or most recent call if it's more than one that's represented, as is the case with the very first entry) and a blue circular button with a ">" symbol.
Tap on that "more info" circular button adjacent to the number you want to save and it'll show you more information related to that call or calls:


What a lot of people don't do is swipe downward to see what else is available. Do that and you'll see the button you seek:


Tap on "Create New Contact" and the Apple iPhone automatically pulls the phone number into an otherwise blank contact record: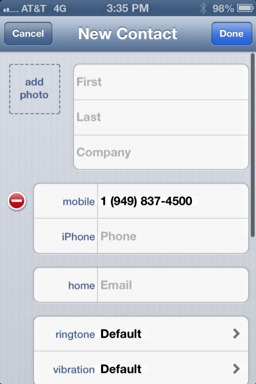 At this point you can enter first name, last name, company or organizational name, etc. I'll enter "Saddleback Hospital" into the firstname field (it'll know what to do), which looks like this:


The number I have isn't a "mobile" number, however, but the main number for the hospital. No problem, tap on the word "mobile" adjacent to the phone number shown and a really long list of other possible number categorizations appears: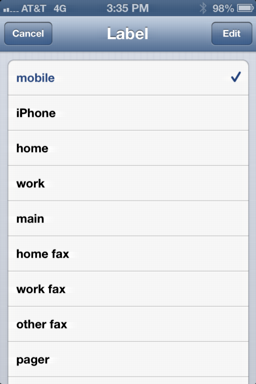 I think "main" is a better choice, so I'll tap on it. I now move back to the contact edit screen, but now the number is more appropriately identified:


That's all the information I'm going to enter at this juncture, so the last step is to tap on the "Done" button on the top right.
This is
very important
because if you don't save what you've entered, the phone will lose the information and you'll be left frustrated and confused.
So tap on it and I'll again see the detailed info about the calls to the number, but now the name of the matching contact is shown at the top:


Tap on "Recents" on the top left and you'll see the name also replaced the number on the Recent Calls list too:


As I said, once you know the sequence of buttons to tap, it's really quite fast and easy to take a phone number and save it as a named contact in your address book. I encourage you to do this enthusiastically so that you'll always know who the incoming call's from before having to decide answer/don't answer!