If you've owned an Apple iPhone 3GS, 3G or still have an original iPhone, I don't need to tell you that one of the constant hassles with the phone is battery life. It's better in the newest phone, but everyone who has an iPhone seems to have their own strategy for minimizing battery usage, ranging from "don't use the 3G network" to "disable wifi" to "turn off everything, especially bluetooth".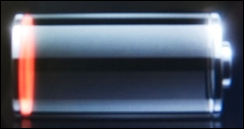 I leave everything enabled on my phone except Bluetooth and my adaptation strategy has been to have lots of power cords with me: two in my house, one in my car, and one in my computer bag so I can sip at USB power whenever I'm using my computer on the go. It's a hassle, but it's manageable.
Where this breaks down is when you're at a trade show or out for the day, without the chance of getting near a power plug, computer or vehicle. You've seen it at parties, i bet: people making BFF's because they have the ability to quick charge iPhones, huddled by the wall outlet like it's the illicit drug of choice.
It's no surprise that add-on and extension batteries are a popular accessory for Apple iPhones, and six months ago, the major contenders were awkward battery devices with universal plugs that acted like an external gas tank: useful if needed, but clunky as heck.
The newest generation of these devices are sleek and double as iPhone cases, and two of the best are from Tekkeon and Mophie.
Do they work, though, and how do they compare? Read on…
Since the day I got my first iPhone, I've found that the double-edged sword of a smartphone is diminished battery life. I mean, when my phone was just a phone (like with my old Motorola RAZR) I'd charge it overnight and it would always make it through the day and evening without a hassle. Sometimes I wouldn't charge it for 3-4 days at a stretch.
Progress comes at a price, though, and now it's a rare late afternoon that my phone isn't thirsty for a quick electrical pick-me-up. I was lucky enough to have Mophie send me one of their very first Juice Pack devices six months ago. I reviewed it here (see: Review: Mophie Juice Pack for the Apple iPhone) and liked it, saying "The other device I received and am highly impressed with is the mophie juice pack. It's only 1800 mAh, by comparison, but the form factor and design are both so perfect that it's actually my favorite."
Six months of evolution and Mophie's new product is the far better designed Mophie Juice Pack Air, a slimmer device that fully wraps around the phone, rather than being a weird sort of diaper (see my earlier article for a pic so you can see what I mean):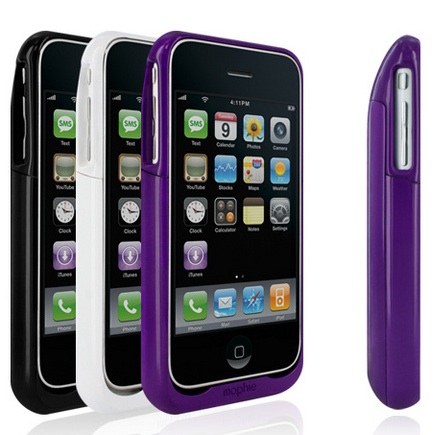 Available in a number of vibrant colors — I got purple this time — the Juice Pack Air is a simple, attractive solution to the battery problems of your iPhone with its 1200mAh battery boost.
By contrast, the Tekkeon myPower for iPhone is a bit more ambitious in its capabilities, and has a very different, more Wall Street, stitched leather sort of look: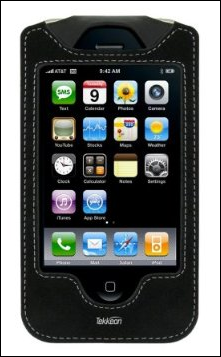 The Tekkeon is a 1500mAh battery, so it's a bit more capable than the Mophie, but it's definitely a different approach to the problem.
What's frustrating about both devices is that they don't let you use the standard iPhone cable, the 30-pin plug that you're already using every time you charge your phone. The myPower uses mini-USB, and the Mophie has what's called a micro-USB connector and cable. Personally, I hate that there's not one plug that works for everything, every device, and every need. My computer bag looks like a portable Radio Shack and it drives me crazy!
Both devices let you sync through their USB connectors (mini-USB on the Tekkeon, micro-USB on the Mophie) which is awesome. This means that if you have the right cable for your iPhone battery pack, you don't need to also carry around the regular Apple iPhone cable too. Smart. I'll still give Tekkeon the edge here, however, because I already carry around a mini-USB cable in my bag for my camera and other devices. Up to this point, I don't have any other devices that work with micro-USB.
The Juice Pack Air has a bright four-light charge indicator (shown above, on a white unit) that makes it very easy for you to keep track of how much power you have left in the gizmo (the Tekkeon unit has a tiny little light that shows green, yellow or red) and has an on-off switch that lets you leave your phone jacked into the device without it being seen as an external battery until you need it. The myPower for iPhone is always visible to the phone when being used as a case, though the phone is smart enough to always tap the external source if available, so it preserves battery life for as long as possible.
So which would I get? They're both pretty expensive, but the ability to extend your iPhone battery life by hours at a trade show or other event is invaluable, and I never travel without at least one of these. I much prefer the style – and the on/off switch – of the Mophie Juice Pack Air, but the special non-standard micro-USB power cable is a major drawback, so I'm going to give the Tekkeon myPower for iPhone the crown this time.
Each of these companies can learn from the other, however, and it's the
next generation
of these devices where I think we'll really start to see some nice features combine with good design.
The Mophie Juice Pack Air
retails for $79.99
and comes in black, white and purple. The Tekkeon myPower for IPhone coincidentally also
retails for $79.99
and comes in a real leather or faux leather option.
---
Thanks, Doyle, for reminding me that the Mophie Juice Pack Air can also sync with a computer through its custom cable. I've amended this article to reflect that correction.