My new client loves Google Calendar, which is a problem since I'm an Apple Calendar fan myself. I can move things over as needed, but he's asked me to send him gcal invites. So how can I actually invite him to meetings via Google Calendar??
Ah yes, the great calendar war, where we get to pick a side, either Google Calendar, probably because we're running Microsoft Windows and have an Android phone, or Apple Calendar, to go with our Mac system and Apple iPhone. Rather amazingly, the two don't really play very well together at all and while different solutions have come and gone over the years, none seems to actually offer reliable and trustworthy sharing in both directions.
As a result, your suggestion about duplicating events so that they're in your iCal calendar as well as Google Calendar (I don't think anyone calls it gCal any more) is probably the path of least hassles, dorky and 90's though it may be. But that leaves you needing to know how to quickly and easily set up an event and send out an invitation to your client so they think you're just "on board" with their preferences!
Fortunately, if you have an active Google account (e.g. you have Gmail set up) then it's pretty easy. To start, go to calendar.google.com and look for the "Create" button. It's pretty easy to find:

Now you can quickly add the event by specifying time, date, and description:
Click on "Add" and you have a new event. Easy. Done.
Well, not quite… 🙂
You still have to invite the other person to your meeting. To do that, either click on the event description in the creation confirmation message (as below) or find the event on your calendar view and click on it.
Whichever path you take, you'll then see the event view, like this:

As is immediately obvious when you start using Google Calendar, they haven't spent much effort on design or user interface. It's all very bare-bones. In this case, however, that means there are less distractions. To get to the detailed view and lots of different options, simply click on "Edit event". Now you'll see there are lots of choices!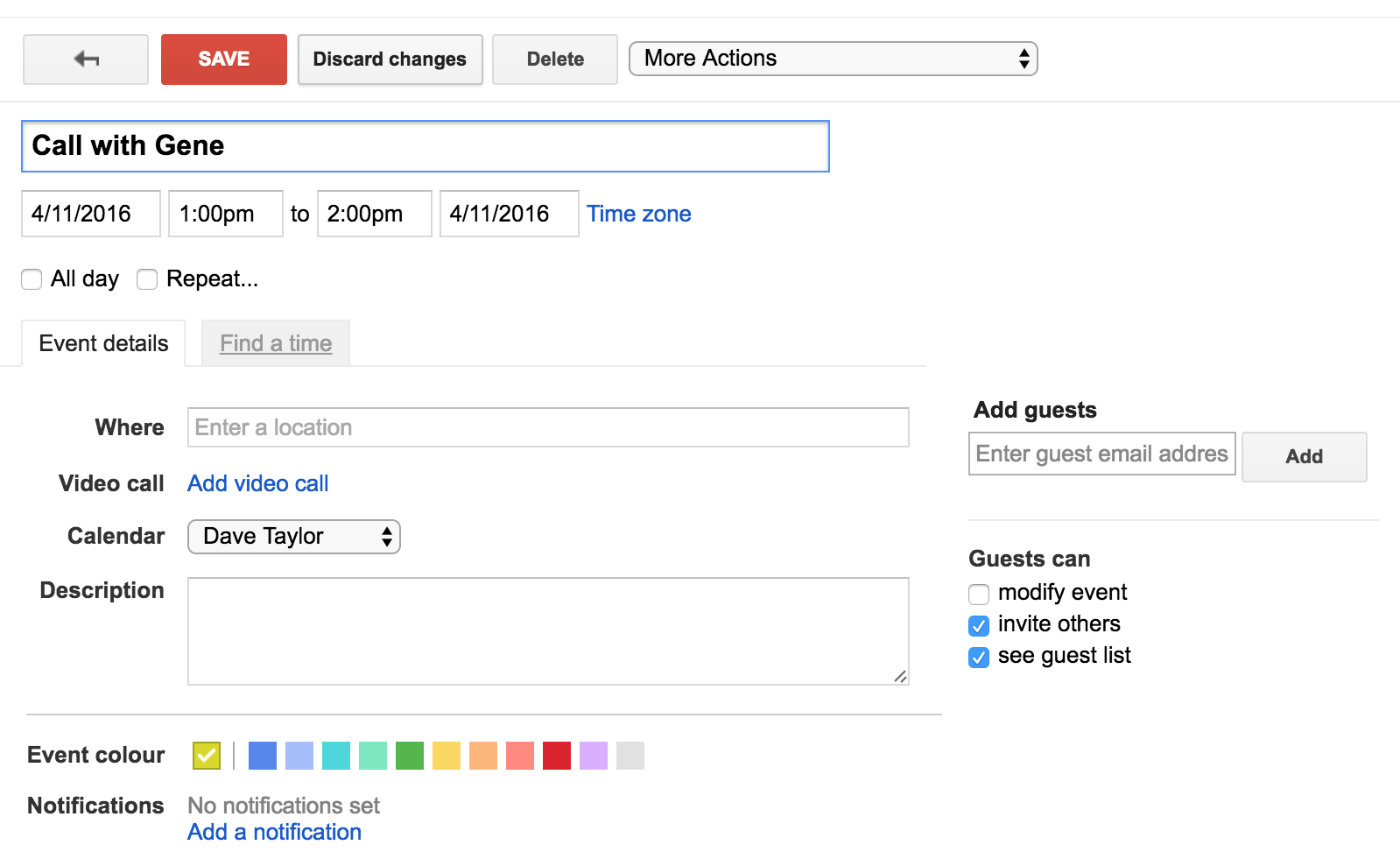 Lots of choices, including being able to change the "colour" of the event, specify a time zone and even mark it as a recurring or repeating event. We don't want to get sidetracked with any of those, however. Simply click on the input field immediately below the prompt "Add guests", then start typing in their name:
Since it shares the database with Gmail, odds are good that it's going to know who you want to add to the event guest list. In this case, typing "gene" was all I needed to do to identify Gene K., who is the person I need to invite to my meeting. I select it and click "Add" and they're now on the list:
Since it's just the two of us, his presence is not optional. You can choose that if you want for your event, but if it's just you and your client, that's probably not going to be useful!
Now it's super easy. All you have to do is click on the red "Save" button at the top of the event listing. Now Google Calendar will email an invitation to everyone on the guest list. At least, if you say yes…
Then, hopefully a short time later, you'll get confirmation that your guest has accepted the meeting invitation. Like this:

And that's all there is to it. Just don't forget to copy it onto your Apple Calendar too!