I just heard that there's a software update for the Apple iPhone. I want it! But I'm confused: how do I update the software on my phone?
The key thing to realize here is that you don't update the firmware (well, operating system, software, whatever you want to call it) on your phone, you update the mirrored firmware on your synchronized computer and then it automatically copies it onto the phone the next time you sync.
For example, here's how I did the update with my Mac…
I plugged in my 16GB iPhone 3G to my MacBook Air and instantly got this:

Okay, so click on "Download and Install" because, well, because life's an adventure and why not risk your phone going completely dead on you? 🙂
Next screen shows this: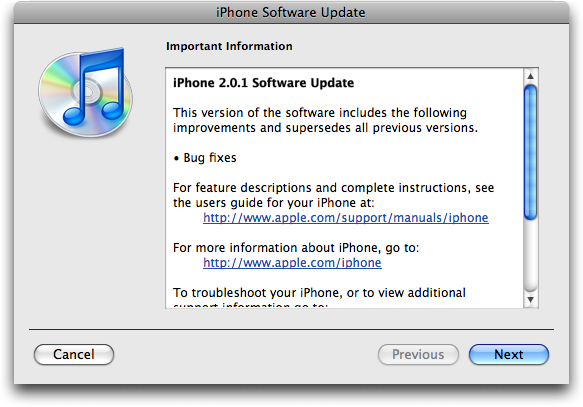 and, of course, the license that no-one reads (I mean, what
does
this say?):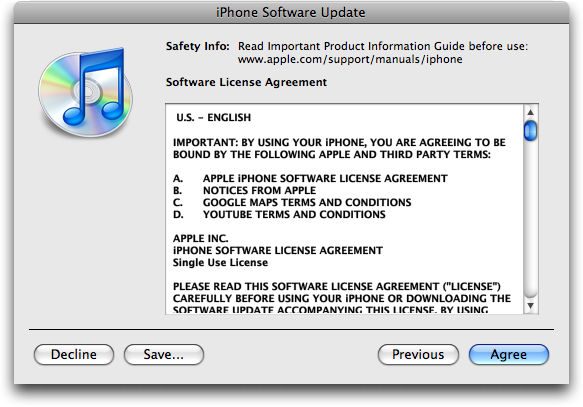 Downloading happens next:

and then it appears that nothing happens at all. In fact, once the download finishes up, iTunes starts doing work behind the scenes without showing you anything at all. Watch your iPhone screen instead: it does the world's slowest reboot (actually it's downloading a 249.2MB file onto your phone).
That's basically all there is. Just wait. And wait. And eventually you'll see:

And now the phone does succeed at rebooting and you're running Apple iPhone firmware 2.0.1 rather than the earlier 2.0 software!
How can you tell? Easy. On your phone click Settings –> General –> About and you should see: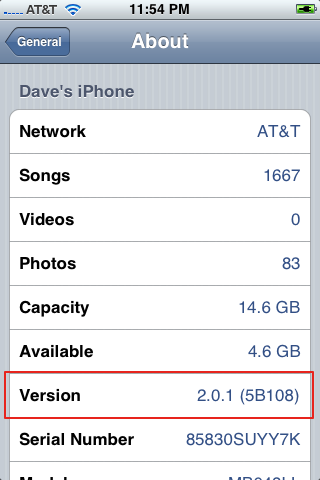 Too much work? iTunes will show you your latest firmware version too:

Now, to go and experiment to see if it really has made things more stable…