Not sure what it means: the "Settings" icon on my new iPad 3 has a small number on it. What do I do when this happens? Is it some sort of update to my iOS 5 or iPad operating system or is there a problem or error situation?
You raise an interesting point about the design of the iPad interface with your question, perhaps inadvertently: things happen, often subtle things, and you're supposed to just somehow know what they mean. There's no help menu, there's no manual that comes with the iPad. The good news? I have tons of iPad help on this site, so you could certainly poke around here to learn a lot about how to work with your new device!
In this situation, you're talking about seeing something like this:

Right? You might well be familiar with the little number 'badge' from the email application or from the iTunes icon, to indicate that there are updates to one or more of your apps, but what does it mean when it's on the Settings icon?
The answer is as you surmise: it's an iOS (pronounced "eye oh-ess") update that's available. Make sure your iPad's fully charged — or plug it in — and that you have a reliable wi-fi connection and at least 20-30 minutes for the procedure, and here's how you can actually apply the update…
First off, when you look at your iPad screen, that little red number shows up on the
Settings
app, as shown earlier: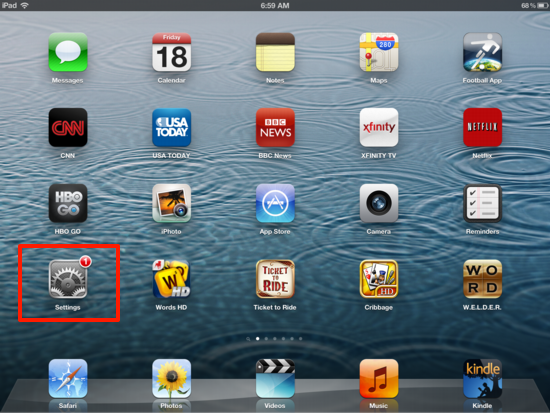 Tap on the
Settings
icon to go into the app and it'll show you what's pending:
As you can see, in this case it's an update to
iOS 5.1.1
. Again, notice on the left that there's a "1" associated with the "General" option, an unusual sight!
To proceed, tap on
Install Now
, providing you're fully charged or plugged in and have decent-speed wifi (it's often a big, big download).
Not so easy, cowboy! One more step: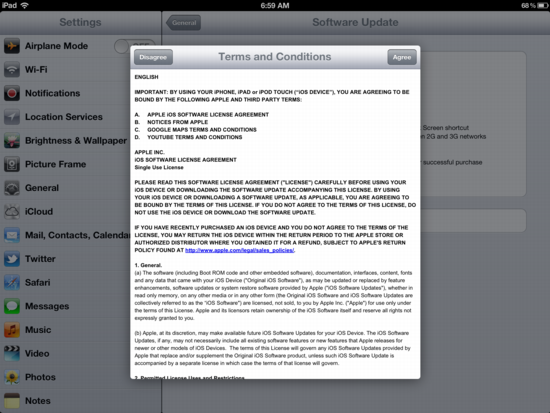 You did read that closely and carefully before you tapped on "Agree" on the top right, correct? 🙂
Yeah. I don't either. It's cool.
Tap on "Agree" and now the real process will happen, starting with a big download, then having the iPad verify that what it downloaded is complete and without any corrupt data or other problems…
Assuming it all works well, your iPad will now restart into an update mode with a progress bar. And take quite a while to update. Then it'll go black. Have patience and wait, after a bit it'll show an Apple icon again, and, finally, restart.
Once your iPad is up and running again, tap on
Settings
–>
General
again, and now you can see what version of iOS you're running:
It should be the new operating system. Congrats. You just updated your Apple iPad 3.