I want to take a picture (capture) of my screen while running certain programs on my Mac so I can email the screenshot to a friend but have no idea how to do so. Is it even possible?
It's definitely possible, and Mac OS X actually includes two different ways to capture either the entire screen or a portion thereof. First, though, I have to say that there's quite a bit of confusion as to whether what we're talking about is called "screen grab", "screen capture" or "screenshot". They're all the same thing. 🙂
By default, the operating system includes the ability to capture your entire screen at any time by simply pressing the key combination of cloverleaf + shift + 3. Try it right now. When I do it, I hear a "camera taking a picture" sound and a file called "Picture 1.png" shows up on my desktop. Scaled down (for space reasons), it looks like this: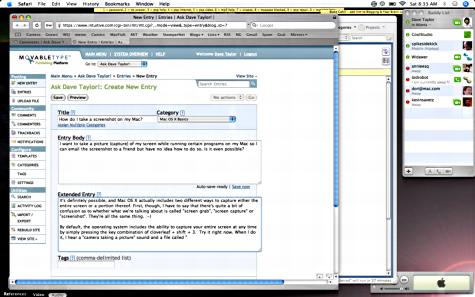 Simple, no frills, and ready to chop up and edit, if you so desire, with a graphics program like
GraphicConverter
.
If you want to have a bit more control over what happens, however, the Apple utility
Grab
is a splendid alternative. You can find it in
Applications
–>
Utilities
, and when you start it, there are no windows that open up for the application by default, just its options on the menu bar:


This is far more useful, as you can immediately see when you click on the "Capture" menu: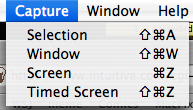 I'll choose "Selection" so I can draw a rectangle to define what on my screen I want to capture, and it pops up a helpful window to explain what's going on. More importantly, notice that the cursor now has x,y coordinates included, which is a bit weird, but at least you can see that something's happening: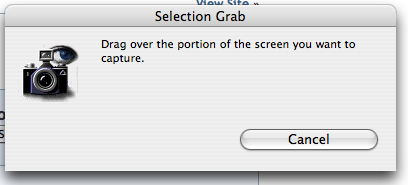 Now just move to the top left corner of the region you want to capture, then click and hold down the mouse button while you drag the cursor to the other corner. As you do this, it'll produce a red rectangle and, in tiny digits, the dimensions of the region:


When you're done, let go of the mouse button and *poof* you've got your capture:


Now all you have to do is either use
Edit
–>
Copy
to load the image into your copy/paste buffer (you can paste it into an email message, for example, or a Word document) or choose
File
–>
Save As…
and give it a meaningful name.
It's worth mentioning that there are third-party screen capture programs that offer greater flexibility and power too. I use
SnapZ Pro X
, a terrific capture utility from Ambrosia Software that can add drop shadows, change the shape of the edges of your captures, and much more.
Nonetheless, it's nice that even with a stock Mac OS X system, you can still capture regions, windows or the entire screen whenever you want. Very helpful, and doubly so with tech support problems!