My dashboard is displaying three copies of the weather widget. How can I delete the extra ones and just keep one?
For as much as the Dashboard on Mac OS X is cool, it's not quite as intuitive in its design as Apple may think. Yours is one of a number of common Dashboard questions I get with some regularity, and the good news is that once you know the secret, it is easy to delete unwanted widgets.
The trick is to know how. 🙂
First off, here's a typical setup with three weather widgets in Dashboard within Mac OS X Leopard: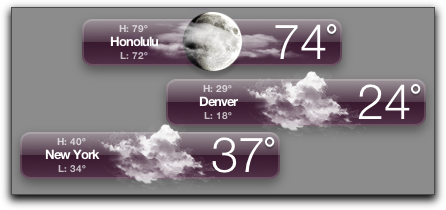 While clicking on the tiny script "i" will flip the widget and let you enter data, there's certainly no obvious way to close it, no tiny box with an 'x' in it, no red bubble, nothing. So how do you do it? You click on the "X" button on the lower left of your screen:


Now every widget in Dashboard magically transforms to have a close button:


Click on the "X" adjacent to the widgets you don't want to see any more, and
poof!
they're gone forever. Or at least until you launch them again. And now you know! 🙂