I've been reading all of your extensive iPhone help on the site and found it a great boon to learning how to do things. I can't find any info on how to set up my phone to require a code be entered before it'll unlock, however. Do you have information on how to lock an Apple iPhone?
Actually I don't. Until this article, at least. 🙂
Let me start by saying thanks! for your kind words. I have had an iPhone since the week they were first announced and have tons of friends and colleagues with them too, so whenever there's something interesting going on in the iPhone world, I'm either hearing about it from a pal or already involved.
On the other hand, I haven't found much need to lock my phone since it's always in my pocket, on the table next to me, or otherwise immediately accessible. Nonetheless I can certainly appreciate the question and after a little bit of fiddling, it's not hard to set up at all.
Your first step is to tap on the Settings button, which brings you here: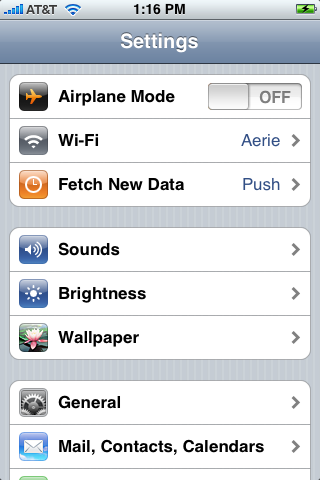 It's not obvious, but you want to tap on
General
in this section, which brings you here:
One more tap, on
Passcode Lock
and it immediately asks for your new four digit passcode: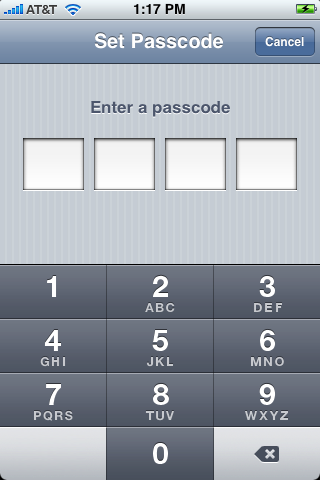 Juuuust for good luck you get to enter it a second time:
If you've done everything right, your next screen will be:
Done. Now turn off your phone (just push the button on the very top right of the phone once) and push the home button to turn it on again. You should see your usual screensaver (or is it an iPhone wallpaper at this point?) and once you slide the "slide to unlock" element, the screen asking you to enter the passcode.
If you have friends who are a bit mischievous, this is also probably a very good default setting!