I had my old Mac laptop, an iBook, stolen and now that I have a new one, I realize that I can't get the music off my Apple iPhone which is driving me crazy! Is there some way to sync the iPod music and video portion of my cellphone without having to start from scratch again?
Now that I've been moving everything onto my Macbook Air (which I love!) I am facing the very same issue: when I plug my iPhone into my Air, it just wants to reformat it and start me over from scratch. Not good!
However, all the standard utilities I tried couldn't see the iPhone, which was super frustrating until I bumped into the latest beta release of Senuti, a slick free application that lets you copy music from your iPod onto your computer, even if the two aren't paired.
I downloaded 1.50.2b3 (beta 3 version of 1.50.2) and was thrilled and delighted that programmer Whitney Young has clearly been experimenting with just this capability. When I installed it and plugged in my iPhone, it worked great!
First off, one of the terrific features of Mac OS X is that if you have an app that you downloaded from the net, the first thing you see is this:


Great feature! Click on "Open" and now you'll get to step through the first run configuration options. I don't make any changes other than to select the following:



Since it's your intention to also copy the music from your iPhone back into your iTunes library, you'll also want to select this option.
Finally, the app's ready to run and when I plug in my Apple iPhone, here's all my music: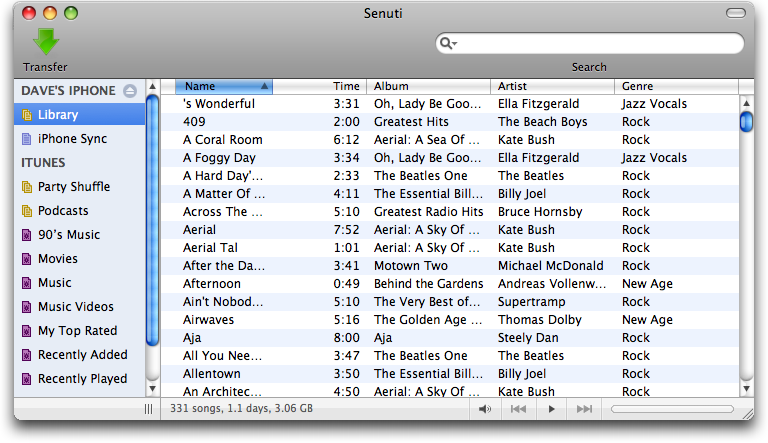 To copy everything, I just selected it all and clicked the green "Transfer" arrow. Now the transfer started: you see a tiny progress bar on the lower left, but if you click on the little "i" info icon, you get a more informative progress window: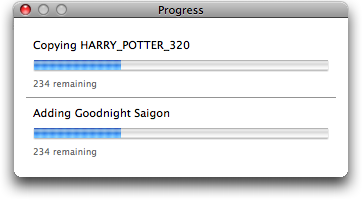 after a while – depending on how much music and how many movies you have (here, notice, I'm copying the Harry Potter movie from my phone to my Macbook) – you'll finally see this:


Hurray! Copied. Sure enough, go into iTunes and: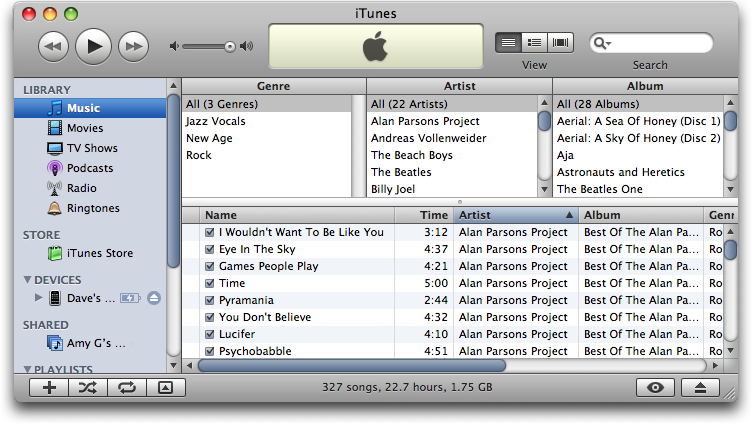 That's the answer. In terms of grabbing your address book, SMS text, and related, I haven't yet found a solution for, but perhaps someone else can offer up a suggestion?