I'm an old-school computer user and when I got my new laptop I decided that rather than overwrite the OS with Linux, I'd actually stick it out and learn Windows Vista. So far, not so bad, but one thing's bugging me: when I create a file like "test.xls" the system shows it as "test" with an Excel icon. I want to see the filename suffix, though, the ".xls" part. How do I enable that feature / disable that feature in Microsoft Windows Vista??
I so know exactly what you mean and this kind of "friendly user behavior" drives me up the wall too. If I create a file called "foo.bar" then I want it to be shown as just that when I'm poking around on my computer. Both Windows and Mac OS X have this bad habit now of hiding filename suffixes and it just bugs me.
It's not too incredibly difficult to figure out how to disable this "feature" in Vista, though, so you're in luck.
The windows are all pretty big, though, so they'll be scaled down here. Hopefully you can still step along and figure out it on your computer too.
Start out by getting to Control Panels: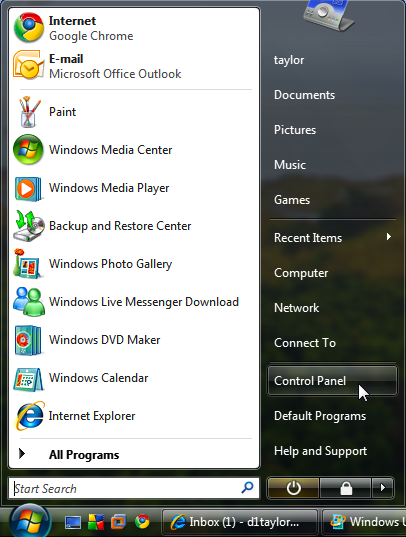 There are a bunch of different things you can tweak and change, with handy common shortcuts shown in smaller blue text:


Notice where the cursor is located: "Appearance and Personalization". That's what you want, click on the category name.
Now you'll see that there are subcategories of Appearance and Personalization from which you need to choose what you seek (yes, there are a LOT of ways you can tweak Vista. Probably too many, actually).
Select "Folder Options":


Almost there. Now you'll see the "General" Views settings, which have a few things you might want to fiddle with while you're here:


What we seek, however, is under the "Views" tab along the top. Click on that tab and then look very closely at the many options in the lower scroll box, the advanced settings:


As I have highlighted, one option is "Hide extensions for known file types". Uncheck that box. Now click on "Apply" and you're done, it's all fixed!
While you're here, though, you might have a glance at the Search tab too, as Vista is, at best, weak in file search, but you can tweak its settings just a bit if you want:


Otherwise, you're done, and you're off to the races too!