We have two admins to a fan page (for a mothers of twins club) and were wondering how we could comment on our fan page as ourselves and not as the page admin? Every once in a while it would be better for us to interject a comment as ourselves versus the admin. How can you choose what profile you comment under?
[I turned to Facebook marketing expert Mari Smith for help with this Facebook question. Here's what she had to share with you…]
Facebook fan page Admins can only comment on fan pages they administer as the fan page ID. It's not possible to comment as your personal profile, so long as you're an Admin. To quote Facebook:
The fans of your Pages will not be able to view or access your personal profile. Any actions that you take as a Page administrator on your Page will show the Page's name as the actor and not your personal name.
Facebook has this Admin-only posting measure in place in the name of privacy – given fan pages are completely open (even viewable without being logged into Facebook.com), and you can have an unlimited number of fans, if you were able to comment/post on your fan page as yourself, you'd be posting a link back to your personal profile and possibly exposing yourself to everyone on the planet. okay, on the Internet! Some users may be perfectly okay with that; however, Facebook do pride themselves on their very granular privacy settings for profiles, as shown in the screenshot below (hiding posts from a specific friend list, for example):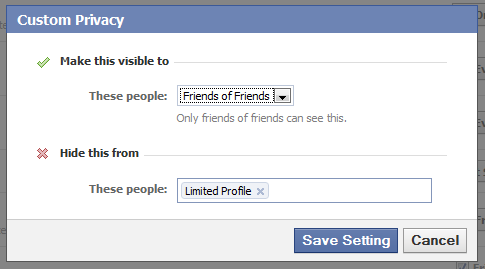 Even if you could post on your own fan page as yourself, you would need to have your privacy settings (which only impact your personal profile) set to "Everyone." Otherwise, say you had your posts restricted to "Only Friends" or even "Friends of Friends," then no one outside of these categories would see your posts on your fan page, anyway.
Clearly, the issue of being able to post as self is a popular question and a much-desired Facebook feature per the 400+ comments on this thread of Facebook's own fan page for Pages. One suggested workaround, from many users, is to set up a second personal profile – but this is against Facebook's Terms of Use.

Remove yourself as Admin

To comment on a fan page as yourself, you would need to first remove yourself as the Admin. However, originating Admins can never be removed (a major headache for so many businesses and an issue I would love to see Facebook address sooner than later!)
I do strongly recommend all fan pages have a minimum of two Admins for security reasons; you just never know when something might happen to your profile or your access to Facebook which could prevent access to your fan page. (There is no limit to how many Admins a page can have.)

Just sign your name

My best suggestion is to adopt a strategy by the likes of SocialMediaExaminer.com's Facebook fan page, where they have several different Admins and each person signs their posts and their comments with their first name: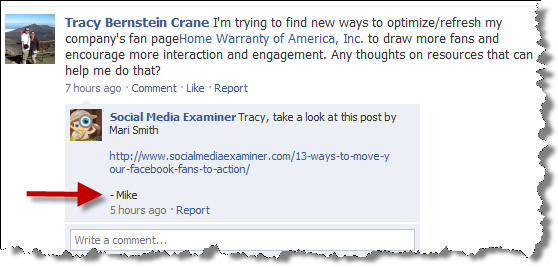 Or, another example: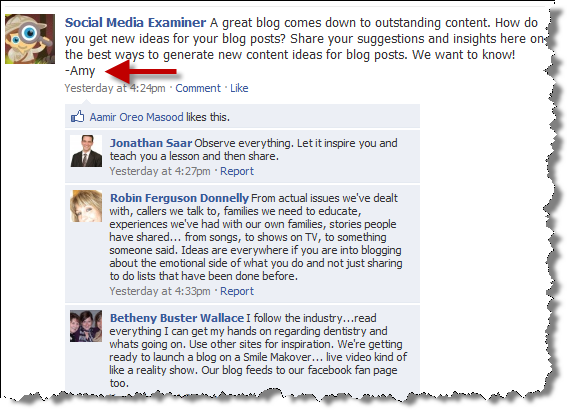 Choose a different originating Admin

If you have not yet created your Facebook fan page, you might consider having someone other than yourself be the originating Admin. That way, you could post on your fan page as yourself. However, do give serious thought to this option, as the originating Admin will always have access to your page!

Use the Emoti iPhone app

One other fun workaround – for the occasional post and for my fellow iPhone users – is to use the Emoti iPhone app. With this app, you can post a cute emoticon and comment on your personal profile, or fan page (or any friend's wall or the wall of any fan page you joined). This screenshot shows a post on my fan page wall by my personal profile, and with a comment by myself as the Admin: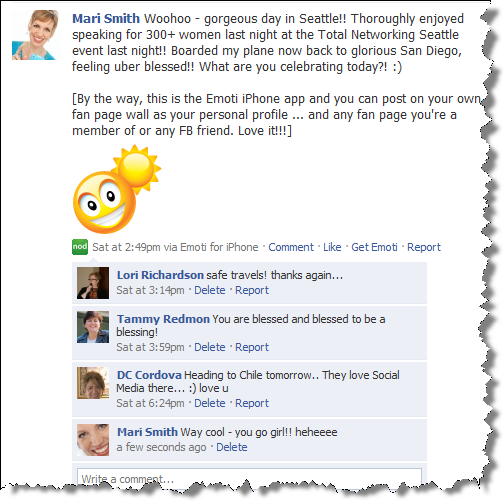 Hope those help out!