My Dad gave me a bluetooth headset that he isn't using, a Nokia BH-700, and I want to pair it with my iPhone 3GS, but I can't figure out how to proceed since the instruction manual has vanished. I have the power adapter, so at least I can charge it, but that's about all I have figured out how to do so far. HELP!?
I can help you out with this, and even better, I have a Nokia BH-700. I don't have an iPhone 3GS, however, I have an iPhone 4. It should be 100% identical, however.
First off, search Google for "Nokia BH-700 user guide". You'll find that the PDF version of the document is the first match. Or, be lazy, click here: Nokia BH-700 User Guide [PDF]. 🙂
Dig into the manual and you'll find all the basics, including this very useful diagram that explains what's what: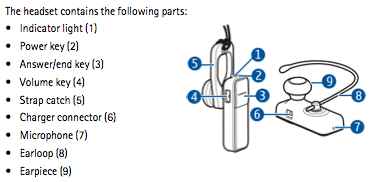 Now, let's get into the pairing with the iPhone once you've got your Nokia bluetooth headset all charged and ready to go!
Turn it on and get it ready to pair by pushing down on the power button on the very top of the unit for a few seconds. It should slowly blink green (it blinks blue once it's paired and connected).
Now on the iPhone tap on "Settings" then go to "General" –> "Bluetooth". After a moment or two you'll see the BH-700 show up, listed as "Not Paired":
Tap on the entry in the Devices list and it'll ask for the PIN code:
The PIN code for Nokia bluetooth headsets is
0000
. Enter that, tap "Done", and it should show as "Connected":
That's it. Look on the top indicator of the BH-700. It should now be flashing blue, not green. To go off hook and answer a call, tap on the answer/end key (the word "Nokia" on the face of the unit once. Hang it up by tapping on it again.
When you do have it hooked up and are making a phone call, here's what it'll look like:
Done? Don't forget to turn off the headset so that you preserve the battery life. Tap and hold on the little power button until it flashes red. Then let go. It's off!