I'm psyched by all the hype and enthusiasm and am seriously considering buying a new Apple iPhone when they replenish their stock here in San Francisco, but I'm curious: do I have to go to a Cingular/AT&T store to activate my iPhone? I am already a Cingular/AT&T customer, if that makes a difference…
You asked this question at just the right time: I only last weekend activated my own 4GB Apple iPhone and I too am already an AT&T/Cingular customer (we have a three-line family plan, my previous phone was a Blackberry Pearl with data plan).
Here are the exact steps I went through to activate my iPhone; all of it took place within iTunes 7.3 on my Mac OS X system. If you haven't yet upgraded iTunes, by the way, you'll get a weird error message when you connect your iPhone, so avoid that by starting here: download the latest version of iTunes.
Plug in the phone and it will immediately access the iTunes Store, then you'll get this cheery window:


(Useful tip: all screen capture images in this article can be clicked upon to see a full-size screenshot, if you want to see more details)
This first step shows you the basic actions we'll need to take to get the iPhone up and fully functional. Start by clicking "Continue", and…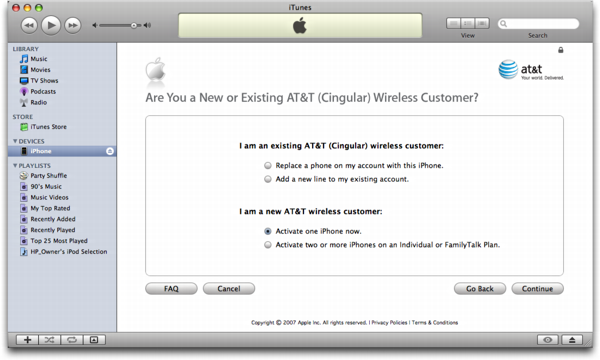 It's time to take the first, important, branch in the process. Like me, you're an existing Cingular (darn, I keep typing that. AT&T) customer, so if you're moving an existing number to your new phone, choose the very first option, "Replace a phone on my account with this iPhone". If it's a new phone that's to go on a new line, choose "Add a new line to my existing account."
Click "Continue" and…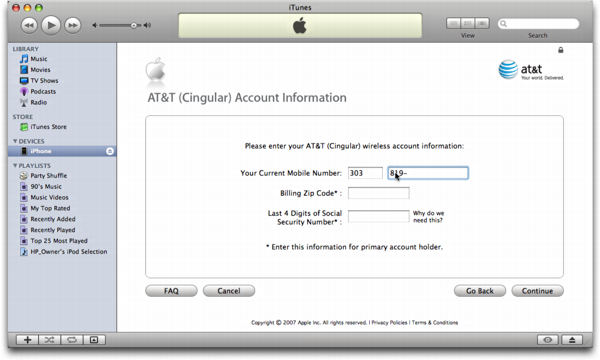 Since I indicated that I had an existing AT&T mobile cellphone number, here's where I typed it in, and included some typical verification information to confirm my identity (since I don't want someone else hijacking my line, that's a good thing!)
Now, the one dark cloud on the horizon, the "there ain't no free lunch" message: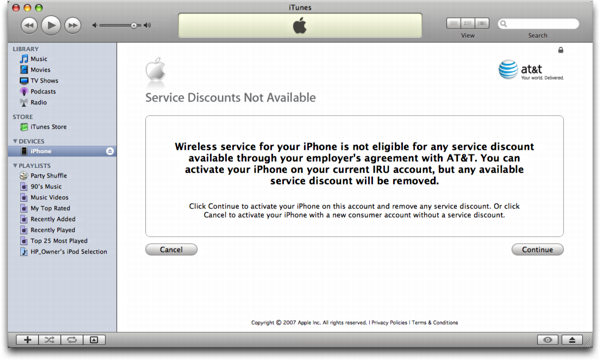 As far as I know there aren't any service discounts on the Apple iPhone anyway, but they have this rather depressing message you have to "Continue" past, offering up the tantalizing hint that just maybe, just perhaps, if you were activating your phone through a different channel or at a store, you might get some sort of discount. If only…
On the other hand, the service plans really are pretty reasonable, especially when compared to the type of service plans that customers see for Internet-enabled phones in Canada and Europe: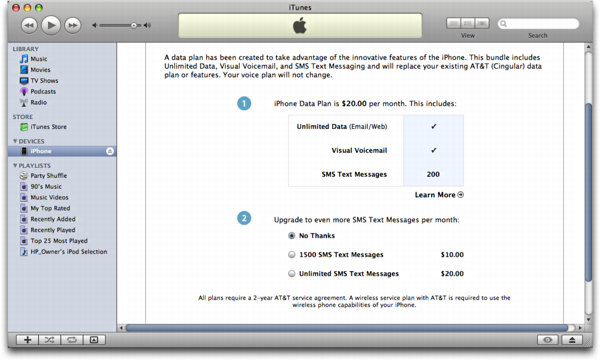 I like SMS messages but really don't get many, and it's just as easy to send an email anyway if your friend has a similarly sophisticated phone (e.g., a Treo, Blackberry or another iPhone). Plus, email shows up even if they don't have their phone, so that's a nice benefit. All that means is that the standard plan with a measly 200 SMS text messages available works just fine for me and my usage patterns, so that's what I've chosen here. $20/month, not bad at all…
Now we leave the world of AT&T/Cingular for a bit and go back to iTunes, because you need to have a functional iTunes account in addition to your cell/mobile account setup.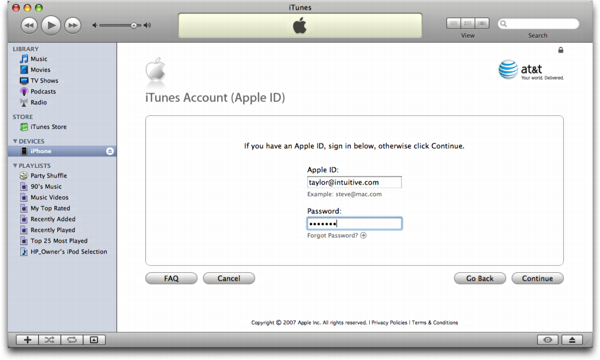 I already have an account so I just have to enter correct credentials.
Log in and it'll show you some basic customer info: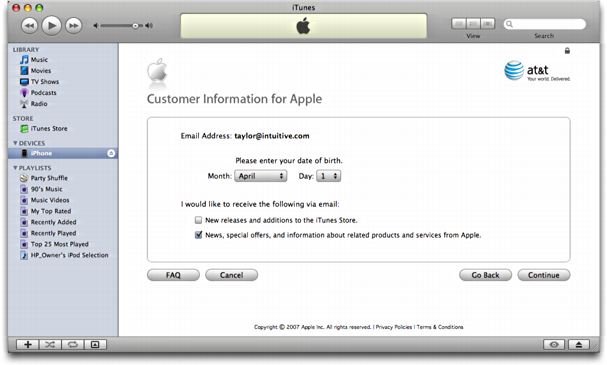 Notice that part of this process is the iTunes Store ensuring that the birthday I have on file is correct (in case of lost passwords coupled with an inability to access the email address you have on file with them). While you might think it's smart to put a fake birthday here to protect your privacy, in fact use the correct information as you might one day really need to recover your password and will inevitably forget the false info you've specified.
You can opt to receive various newsletters from Apple, but my mailbox is already bursting at the seams so I ultimately opt to skip those offers.
Next verification step: is the billing address on file correct?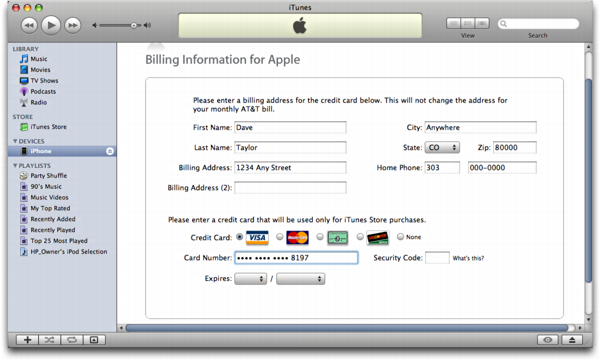 Mine looks good (yeah, yeah, I don't actually live in Anywhere, Colorado, it's just me protecting my privacy a wee bit 🙂 and the billing information itself is legit and accurate, so I click "Continue".
Now the novels begin…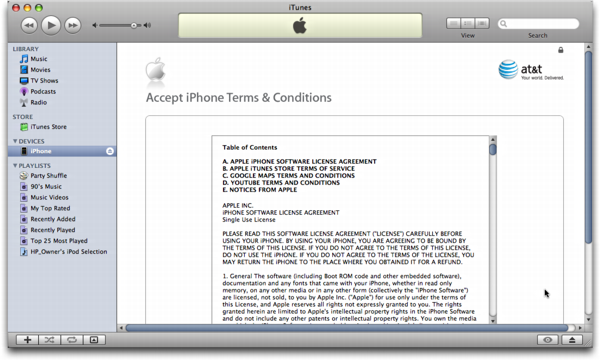 First you have a long, long agreement from Apple on its terms of service for the iPhone, including an interesting section on its Google maps and YouTube agreement (including the fact that you can't hold them liable for any weird or stupid stuff you opt to view on YouTube). Not enough reading? Okay, how about an AT&T service agreement?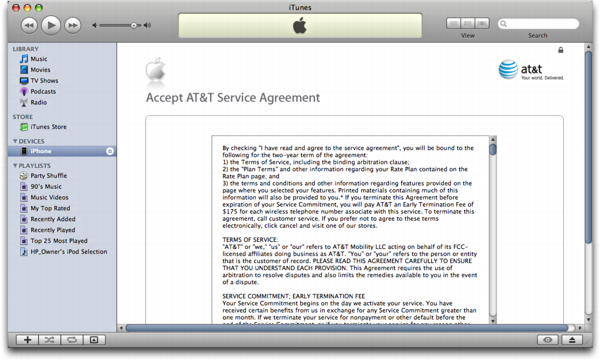 Almost done. Now you get to review the agreement and check your billing address, phone number, etc., as if you weren't closely reading all the terms in the previous screens (you did read them all, didn't you?)…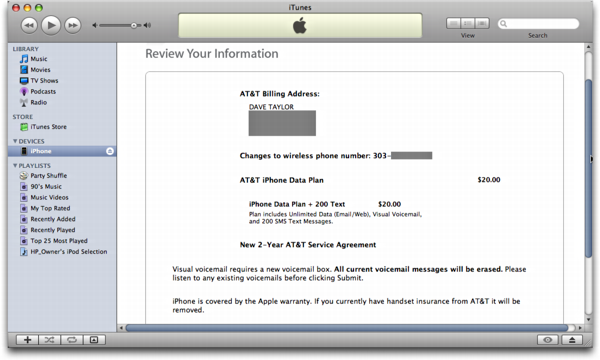 Now, the most glorious and wonderful step of all!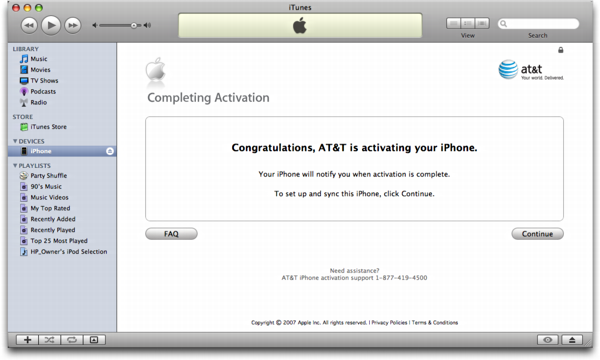 Almost done, believe it or not. Within a few minutes your phone should spring into life, ready to use and enjoy.
You still need to get data onto it, though, so you'll want to go through the steps of setting up your sync configuration with iTunes (each time you plug your phone into your computer, it automatically synchronizes your Safari bookmarks, Address book contacts, email accounts, photos, music, movies, and much more. Darn useful)


I have some tips and ideas about how to set up smart sync configurations with your iPhone, especially if you, like me, have thousands of pictures and far more music than will ever fit on even an 8GB iPhone, but I'll be writing about them in other articles. Stay tuned!
Meanwhile, all that's left is to look at the summary of your iPhone setup in iTunes, because, heck, your phone's ready to use and enjoy!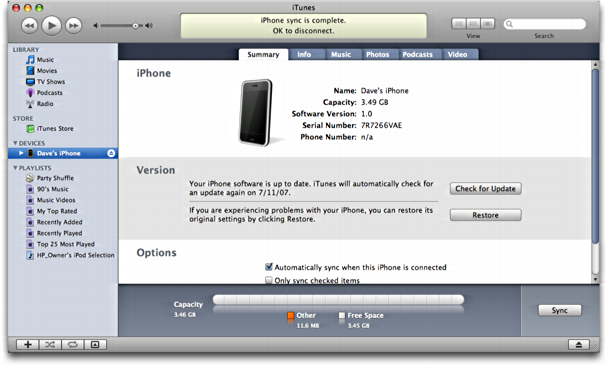 As I said, I'll be adding lots of
iPhone Help
in the next weeks and months so you'll definitely want to either subscribe to my
RSS feed
or my email updates (look for the blue "Free updates!" box on the right side of this page), or just bookmark the site and keep coming back.
Meanwhile, it's now time to start enjoying one of the most elegant and well thought out pieces of consumer electronics to ever go on sale. It's an extraordinary piece of engineering, your shiny new iPhone! Oh, and don't forget, we have lots of
iPhone help
here too, if you're still learning about the phone as I am.