I've been running Mac OS X Tiger for a while now, and when I encounter Web sites that have RSS feeds available, I've noticed that a blue "RSS" graphic appears in the address bar, but I haven't figured out how to actually subscribe to RSS feeds and use Safari as an RSS / syndication reader.
While Safari's detection of RSS is cool, I have to agree with you that it's definitely non-intuitive as an RSS reader. I've spent some time figuring it out, however, so let me show you the step-by-step process involved.
First off, let's go to a page that is on a site that has RSS. How about… um… my own Ask Dave Taylor site? Perfect!
When viewing a page on this site, Safari (on Tiger, not Panther or previous versions of the OS) adds the following to the address bar:


Click on this button and suddenly you'll be viewing the syndication webfeed (whatever you want to call it!) for the site: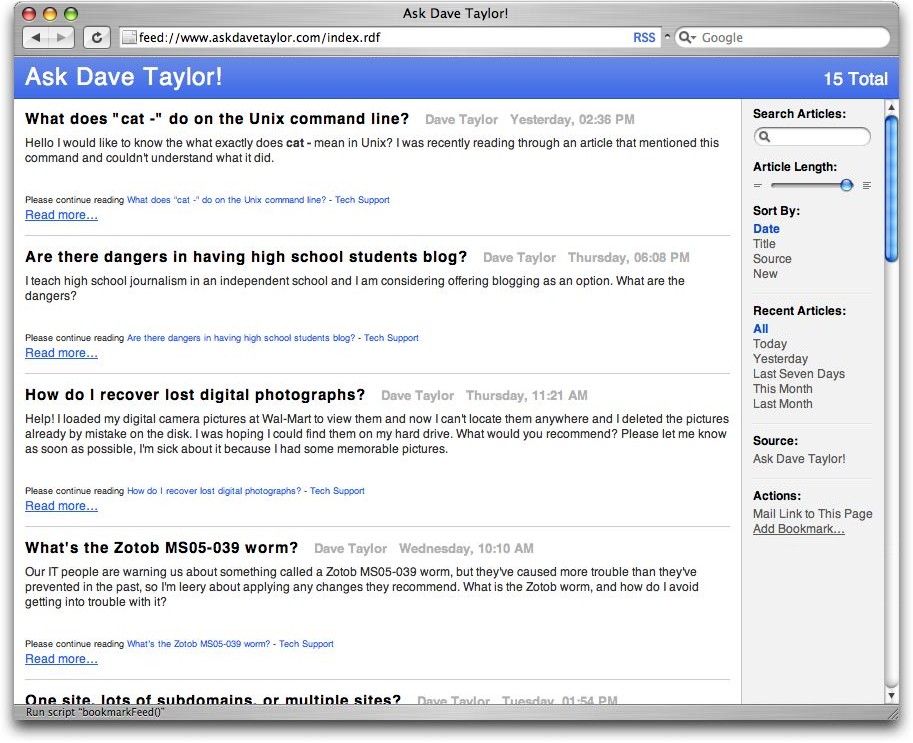 click for fullsize view

A nice view of the RSS data with one key link on the bottom right: "Add Bookmark…". Before you click on that, however, choose
Bookmarks
–>
Add Bookmark Folder
and create yourself a folder called "Subscriptions", "RSS", "Favorite News" or whatever you prefer. As you add more RSS feeds, this will prove a very helpful organizational strategy. Further, my preference is to have this folder on my Bookmarks Bar, but, again, you might like to put it elsewhere.
Now, with that folder created, go back to the RSS view shown above and click on the "Add Bookmark…" link, then choose the newly created folder as the destination.
That's it. You've subscribed to an RSS feed using Safari. But we're not done yet!
The next step is to tell Safari that you have RSS feeds and that you'd like to have the browser automatically keep you current on what's at that site. This is accomplished by choosing
Safari
–>
Preferences…
and then clicking on the "RSS" option:


My settings aren't going to work, as shown. Specifically I need to tell Safari where my RSS feed subscriptions are found – I have my folder on my bookmarks bar, so I'll just choose "Bookmarks Bar" for Automatically Update Articles In…
Then, a critical setting, how often the browser should go out to these sites and query them for new information. The choices are never, daily, hourly or every 30 minutes. I recommend hourly: some sites will ban your computer if you check their RSS feed too often (for example,
slashdot
).
You can optionally set a new article color and manage your disk usage cache (some people never remove old articles, others toss them after only 24 hours) while you're here too.
Done? Click on the usual little red 'close window' button on the top left and your Web browser is now a fully-blown RSS reader.
The only question now is one that I find to be a surprisingly interface design error: how do you get to your subscribed RSS feeds? This is where creating a folder turns out to be a smart strategy, and having it on your bookmarks bar an even better strategy: when you have new articles its name will change from "RSS", for example, to "RSS (13)", meaning you have 13 articles. Now just right-click on the folder name and you'll see one of the menu options is
View All RSS Articles
:


Choose that, and you're now looking at a consolidated view of
all
your subscribed feeds (in that folder) in newest-to-oldest format!
Very nice!