Hey Dave, I bought a new backpack through Amazon.com and when it arrived, I realized I didn't like it and really want to send it back. But I can't figure out how. Have they suckered me or is there a way to actually return things at Amazon?
You can definitely return things to Amazon.com, whether they're defective, unlike what you expected, broken, or just something you don't like or have decided you don't want after all. Unlike a regular store in your neighborhood, however, the key question always remains who is going to pay for the return shipping. As far as I can tell, Amazon will pay if they think it's their fault — defective, broken, bad description — but for any other reason the return shipping is on your dime. Which, really, is pretty fair.
On the other hand, if I were a local store I think I would promote the ease and simplicity of my return policy. I know that's one reason I shop at Bed, Bath and Beyond: they'll take back broken or damaged goods without a fuss even a year or two after purchase. Without a receipt. Smart business on their part and it's made me a loyal customer, as you can see by my mentioning them here.
But back to Amazon. The most important thing is to initiate the return within 30 days of purchase. There seems to be a cliff on that, so don't delay!
To start, go to the Amazon home page and look for "Your Account" on the top right: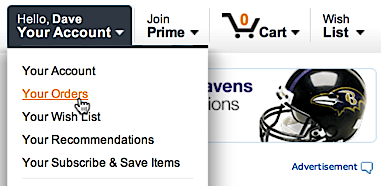 From that pop-up menu, you'll want to choose "Your Orders", which then takes you to a completely different part of the site and lists orders by date, with one representative item from each order displayed. For the item I'm going to return, it's a scale:


If you're guessing that the button conveniently labeled "Return or Replace Items" is what you want to click, you're right! I'd give you a prize, but, um, I don't have one. 🙂
Click on that to proceed…



You can see that the 30-day return window ends on Feb 24, so it's a bit more than 30 days, actually.
At this point it's a bit confusing, but you need to click on the little unlabeled checkbox floating on the top left, then you can choose a reason for return the return:


As I said earlier, Amazon.com has undoubtedly picked these based on customer feedback and each is categorized as "our fault" or "your fault" so that return shipping is properly calculated.
For my scale, it turns out that I got another one, so I'll indicate "No longer needed/wanted" and proceed to the other fields that appear based on that choice: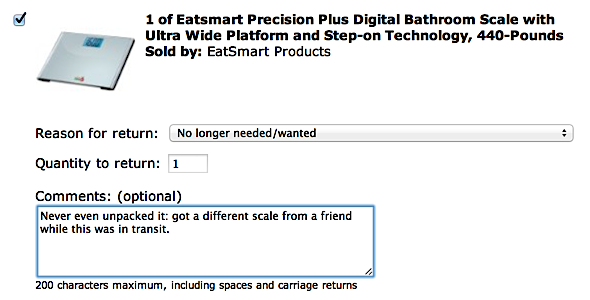 I suppose you can make up a story here or pick a different return reason, but let's stick with being truthful! You can make your own decision about your ethics, however.
Make your choice, enter a reason if requested, and click on "Continue".
Now you'll see a summary, including a variety of different actions that Amazon could take when it arrives in their warehouse:


Since I'm returning a product because I don't want it, most of the options are unavailable. But that makes sense: why would I want a replacement or change size or color when it's simply a product I don't actually want at all? In other situations, more of these options would be available.
Proceeding…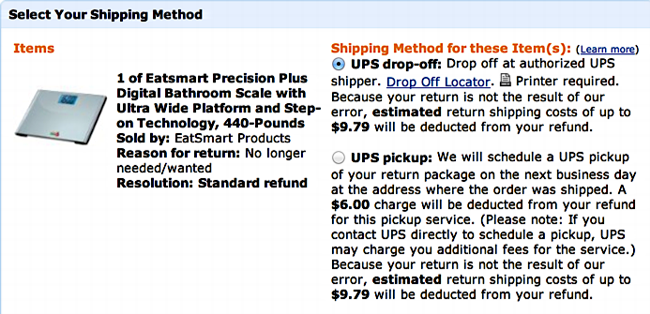 Here's where you can see that I'm going to need to pay for the shipping costs. Since Amazon presumably has a killer deal with the shipping companies, I'm sure it's a better deal to use their pre-paid label and let them deduct shipping charges instead of just paying for it on your end, but for an additional $6 you can even have the UPS driver pick up the package directly from your doorstep (or just flag them down when they're driving through your neighborhood for $0).
Not too many choices here, but in my neighborhood, at least, there are a number of convenient UPS drop-off points, so "UPS drop-off" works just fine.
Final step, click "Continue" one more time and…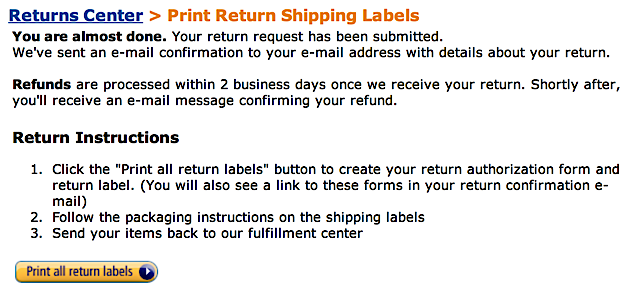 That's all there is to it. Click on "Print all return labels" and a bar-coded label is printed out and ready to tape directly on the box. Drop it off at UPS and you're done. Return accomplished.