I've been using NewsGator Online to read my RSS feeds for years, but with the beta of their new "Ajax" interface, I think it's time to move to something else: Google Reader. Can you step me through exporting my RSS subscription list (in OPML, I guess) and importing it into Google Reader?
I have been meaning to try Google Reader for a while too, so I've taken your question as an excuse to migrate onto GR too. Thanks!
The first step in migrating is to log in to your NewsGator Online account and click on "My Settings" in the top navbar:

Now click on "Edit Locations":
We're getting there. Near the top is "NewsGator Web Edition Location", and adjacent to that is a link labeled
OPML
. Click on it:
If you already have your OPML open, you'll see something like this:
If not, select "Expose OPML to all users", click on "Save Changes", then click on "OPML" again so that you are at this screen and it's showing you a clickable URL.
That's all the hard work. Just right-click (or, if you're on a Mac, option-click) on the actual OPML link and choose "Save As…", "Download Linked File As…" or the equivalent in your particular Web browser:
Now a geeky little step: if you want, you should probably rename the downloaded file "newsgator.opml" or similar, so that it'll import properly. Google Reader can handle a ".xml" file, but other readers might complain. Just fyI. 😉
We're done with NewsGator Online at this point, so you can fire up
Google Reader
and click on "Settings" on the top right. That'll bring you here:
Click on "Import/Export":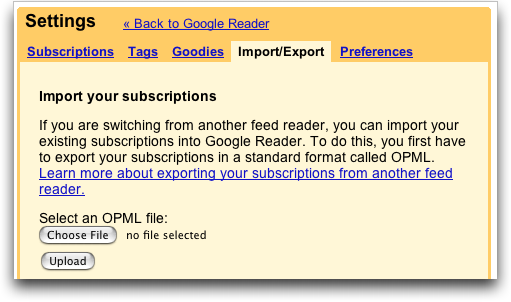 You can probably guess the last few steps, but I'll detail them just for completeness. Click on "Choose File", select the newly downloaded .xml file, and click "Upload":
You'll see a funky green "Your subscriptions are being imported" banner for a few seconds, then a few seconds later you'll be shown your newly imported list of subscriptions, like this:
Click on "Back to Google Reader" and you'll be able to see all your subscriptions. My recommendation: Immediately click "Show: Updated" and you'll find that your imported OPML file mostly even noted what you've last read, so your new view isn't too out of control.
Hurray! Done. Hope that helps you out.