I logged into my Google AdWords account to explore the possibility of tying my advertisement to a few new keywords, but I can't figure out how to ascertain how much it costs to get to the #1 position for a given keyword. Can you help me out?
I'm a bit puzzled that you have an AdWords account but that you don't know how to ascertain the price of a given keyword, so I'm going to make a wild guess that you're actually just trying to ascertain what value is placed on certain keywords within the pay per click advertising community.
As a result, I want to start by showing you how to use Yahoo's Overture service, because it's pretty easy to use even if you don't have an account. Then, I promise, I'll show you how to work with AdWords too.
Within the Overture universe, you should start by using their Keyword Selector Tool. Type in a keyword or two and it'll show you variants that have the most searches associated, offering you a smart tool to identify what words your customers are using for searches, not your own guesses.
For example, I searched for PSP and got the following results: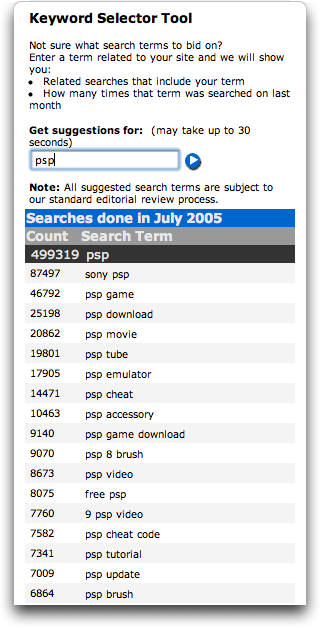 You can see that the phrase "PSP" is searched quite a bit more frequently than "Sony PSP" and that there are common search phrases that are a bit of a surprise, like "PSP tube" and "9 psp video". Those are worth learning more about because unusual but popular searches are often the most fruitful keywords to bid on in a pay-per-click campaign.
Now that you have some keywords to explore, Use the Overture
View Bids Tool
to find out what they're worth to other advertisers. A search for "PSP" reveals surprisingly low bids: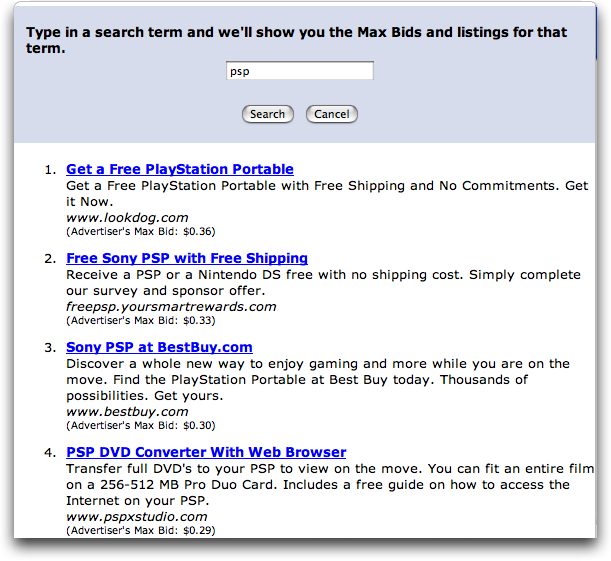 The topmost advertisement is $0.36/click, which is cheap. Why? Because in fact it's not a particularly smart strategy to bid on generic keywords: you want to bid on very specific searches like "buy psp cheap" or "buy psp accessories". The more you can narrow down your ad to only show up when searchers are actually
ready to buy your product or service
the better results you'll have, hands down.
And so it should be no surprise that the top bid for "buy psp" is $0.54 and "buy sony psp" is $0.83. You can do a tiny bit of market research here too: "buy xbox" is $0.81, "buy nintendo" is $0.32, "buy gameboy" is $0.98 and "buy video games" is $0.45.
So how does Google AdWords offer this same data? Well, it's a bit more convoluted…
First off, you can't get to the Google data unless you have an AdWords account. Once you've signed up, go to the
AdWords Sign In
and log in to your account.
Now you'll want to go to
Campaign Management
–>
Tools
and you can do keyword research with their
Keyword Tool
. For comparison sake, I'll use their tool to check on "PSP" again. The results are shown in 'more Specific Keywords", "Similar Keywords, Expanded Broad Matches" and "Similar Keywords, Additional Keywords". Here, however, Google doesn't give you any indication of the relative
frequency
of the searches (which is one reason why a lot of PPC advertisers use
WordTracker
for keyword research).
To ascertain the bids for advertisements through Google AdWords, you need to use the confusingly named
Traffic Estimator
. Type in the desired keyword, enter a guess at a reasonable bid, and you're ready to go. I'll use "psp" as the keyword and "$0.25" as the max bid. Here's what I find out:
You can see that our $0.25 bid puts us at an average position of 1.8, meaning that we'll usually be the #2 match, but sometimes be the #1 match shown with the keyword 'psp'. Also notice that, finally, there's some indication of traffic level too:
Clicks / Day
shows 770, which is based on an (undisclosed) percentage of clicks. If ads for "psp" produce a 5% clickthru rate, that would imply that "psp" is used as a search approximately 15,000 times daily. That's a pretty popular keyword.
Search for "buy psp" using the same $0.25 bid, and you'll find that you've dropped down to an average position of 4.4, showing that, unsurprisingly, that keyword phrase is more valuable. Even moving to a max bid of $1.00 only gets you to the 1.8 position. $1.50? That puts you at position 1.6. $2.00? Position 1.4. Needless to say, that's a valuable keyword, even if it's a less common search term.
And so, finally, it should be clear why most active AdWords users have a variety of different tools at their fingertips to best utilize this popular Google service. If I may, I talk about AdWords at length – and in much more detail – in my book
Growing Your Business with Google
: you might find it a good investment as you work more with the AdWords system.