Dave, I just got a little Lexar LDP-200 digital music player and have no clue how to add music to the device! It says it supports MP3, WMA and WMA DRM, but I don't know what they are. I just want to have something tiny to use as a music player while running. Help?
I've been experimenting with this under $40 device too, and I have to say that I really like the size of the device: it's about the size of a box of matches and weighs nothing. you could easily hang this around your neck and forget it's even there. The LDP-200 is also pretty easy to use.
On my Mac, for example, I've long since changed the settings on my iTunes program to ensure that every CD I rip is saved in MP3 format (see ) so when I wanted to add a CD or two to the Lexar LDP-200 MP3 player, I just plugged the unit into a USB port on my computer then waited a few seconds. It showed up as "NO NAME".
I opened up a Finder window and navigated to Music -> iTunes -> iTunes Music and then selected the specific albums I wanted to copy and dragged the folders onto the Lexar device. It copied the music:

A few seconds later I had my two albums on the device:
That's all there was to it. I ejected the player from the Mac (click on the little up triangle button adjacent to the device name in the Finder), plugged in my headphones, and pushed the power button and the play button. Nice!
Here's what the device looks like, btw:
larger than life size!
To work with Windows Media Player format files, the process is basically the same, but you need to get WMP involved, of course.
Start Windows Media Player, then plug the LDP-200 into your PC and it'll show up, like magic, in WMP. Click on the "Sync" tab and you'll see:
Notice here that it's showing up as removable disk G: but might use a different letter on your computer. Not to worry!
Now, click on Edit Playlist and select the songs or CDs you'd like to copy: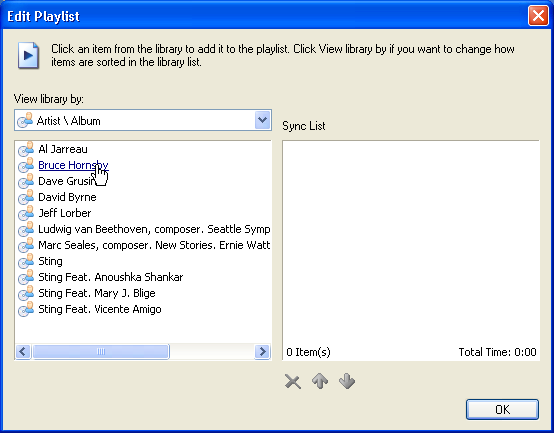 I'll just choose one song from Bruce Hornsby's great CD
Big Swing Face
and now I see:
Almost done. Click on "Start Sync" and it'll automatically copy the song or songs onto the Lexar device. When it's done, you'll see something like this:
Now unplug the unit from your PC, plug in your headphones, and away you go!
Additional useful reading:
  •  
How do I have iTunes rip CDs into MP3 format?
  •  
How do I download songs to my MP3 player?
  •  
Produce MP3 files with Windows Media Player