I noticed the other day that the new avatar graphics on Facebook have become less cartoony and more 3-dimensional. What's up with that change and how can I use a 3d avatar to post my own Facebook updates?
Right around the beginning of 2022, Facebook indeed switched its avatar-based wallpapers from flat graphics to more shaded, 3-dimensional representations of people. I've written before about how to post on Facebook using avatars and how to set up your own Facebook avatar sticker if you need to get up to speed on those. It's still the case that not every Facebook user has access to avatars, however, but the best way to check is to attempt to set up your own: If you haven't set one up, it's definitely not going to just show up. If you try and it's not available, well, I wish I had a great answer, but it just seems that it's not something that every single user can access. Frustrating if you're in that bucket, for sure.
Hopefully, however, you do have avatars set up and have at least tried a single post with them before. Key to remember is that your FB avatar is really just decoration for a new set of posting wallpapers, graphics that will appear behind whatever you post (as long as it's reasonably short).
The change in avatars from 2d to 3d is more interesting and points to what Facebook's parent company Meta is planning: a virtual 3-dimensional VR world where we can experience our social network, instead of just reading about it on a flat surface. Yes, it's for the metaverse, and Facebook is going to be happy to sell you a 3d gizmo to experience it. Even if you have no plans to join the metaverse, however, your avatar has changed. So let's check it out!
USING YOUR AVATAR FOR A FACEBOOK POSTING
I'll demonstrate all of this on my desktop computer, but the process should be quite similar on Facebook for Mobile. Start by just clicking on the box asking "what's on your mind?". This opens up the posting window: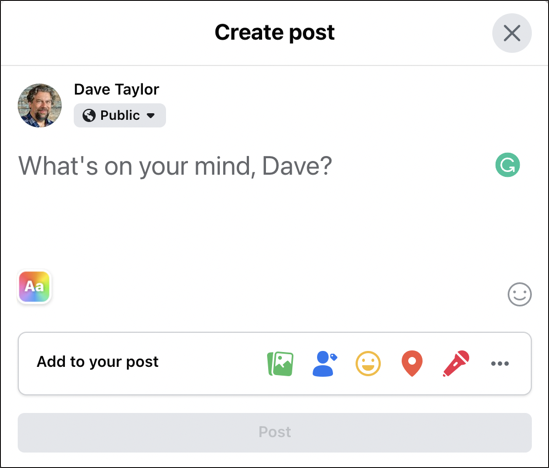 Not much has changed here in a while. But click on that rainbow "Aa" button on the lower left and a row of background wallpapers appears: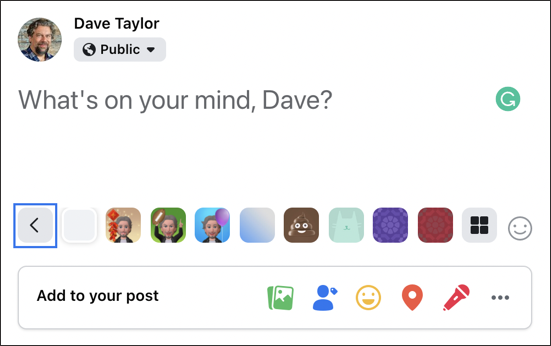 Close inspection will reveal that the first few options include my avatar. But they're tiny. To get a bigger view – and more options – click on the four squares grid icon at the end of that row. A new window opens up with a lot of avatar options!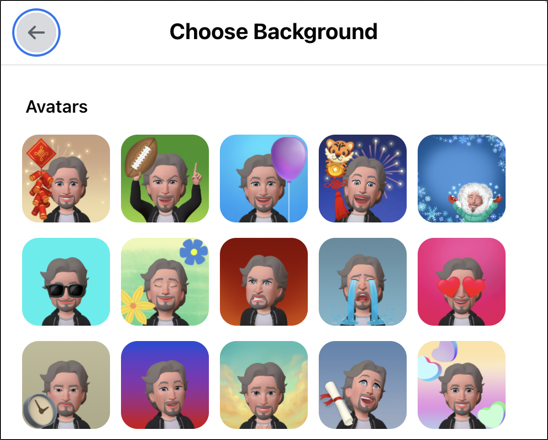 Scroll down and you'll find that there are a lot more non-avatar backgrounds too, but for this purpose, I'm going to click and choose one, the top right graphic. Very wintery, appropriate with it being a toasty 13ºF outside.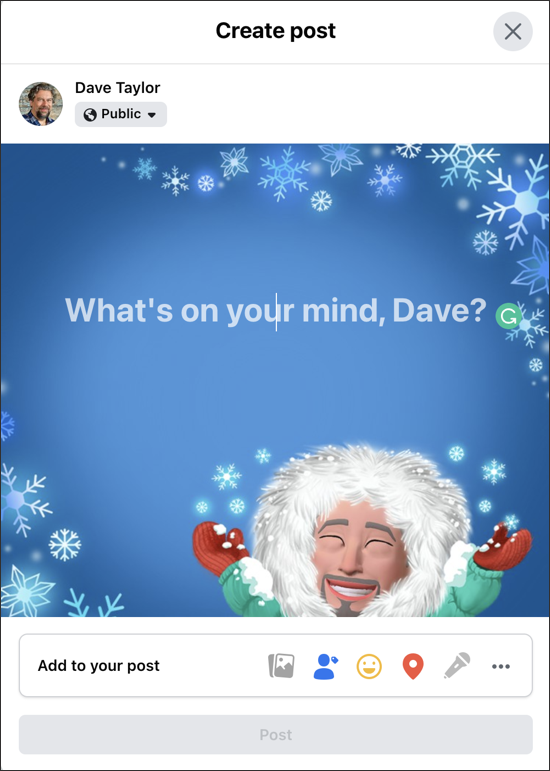 Here you can see the 3D shading that's been added to the avatars. Definitely makes it look different than when it was just flat 2-dimensional graphics (as shown in my earlier tutorials). Whatevah, right? No way to switch back anyway.
I'm going to type in some text to proceed: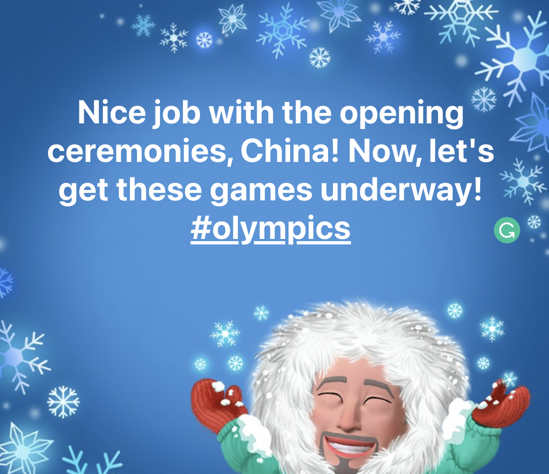 Done? Nah, let's do some more to make this a fun and interesting post.
TAGGING LOCATION AND EMOTIONS WITH FACEBOOK POSTS
First off, let's tag the Olympic Stadium in Beijing since that's the location of the opening ceremonies. That'd done by clicking on the "•••" link on the lower portion of the posting window. It brings up these options: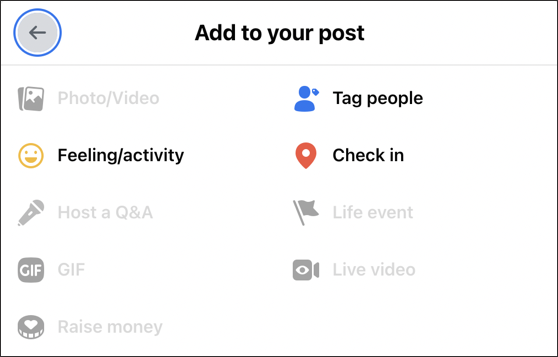 Note that most are greyed out because we've already specified a background wallpaper, which means some of these options are not available. To access them, start over and choose it instead of your avatar background. Not the plan for now, however, so I'm going to click on "Check in".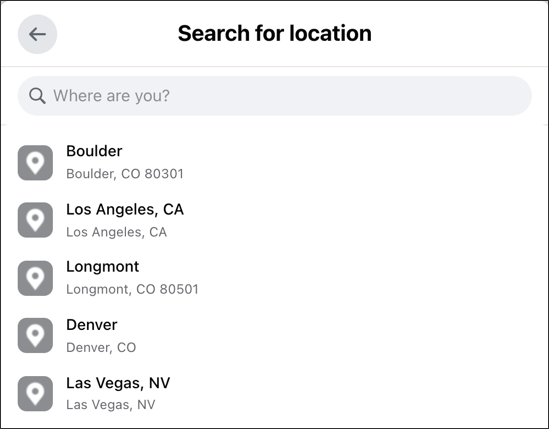 An interesting set of defaults, but much more importantly, a search box. Okay, I'll type in "olympic stadium beijing":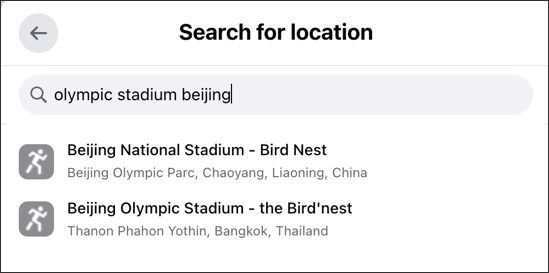 Not sure why Thailand is matching for Beijing Olympic Stadium, but the first is the correct place, and with a click, I'm checked in at Bird Nest Stadium in Chaoyang, Liaoning, China. Nice.
While I'm at it, I'll also choose "Feeling/Activity" and find a suitable emotion: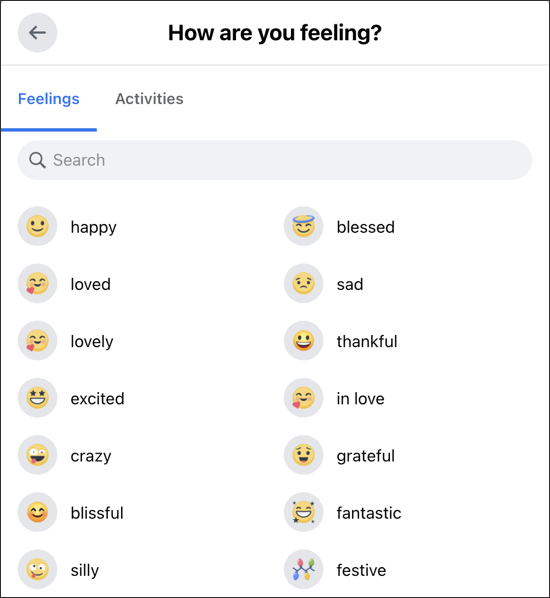 I think "festive" is about right after the beautiful and not too political opening ceremonies of the 2022 Winter Olympic Games. Finally, now, I'm done and ready to post. A click on "Post" and it's up, with emotion, check-in location, and, of course, 3d avatar. Here's how it looks on my phone: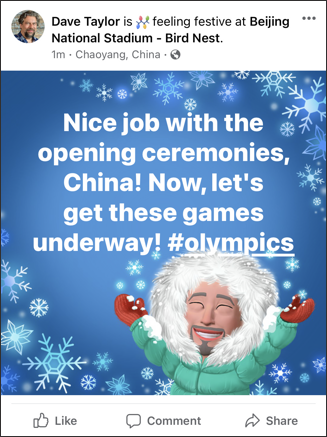 Pretty darn festive, and 3D avatar to boot. Now, go try it yourself and good luck!
Pro Tip: I've been writing about Facebook since it first appeared on the Internet. Please check out my quite extensive Facebook help library for hundreds of useful tutorials and insider tips and tricks. And why not follow AskDaveTaylor on Facebook for even more tips and tricks? Thanks!