I notice that some of my friends are posting updates on Facebook that have festive backgrounds featuring a cartoon version of themselves. I want to be able to do that too! How can I accomplish the task?
There's one big step you have to go through before you can proceed with the holiday themed backgrounds to your Facebook posts: Create your Facebook Avatar. It can only be done from the Facebook for Mobile app, so you'll be doing the task on your Android or iPhone device. I have a detailed tutorial that'll help you do it quickly: How To Create Your Facebook (Animoji) Avatar.
Got it all set up? Great! Then let's proceed…
After standing out as the boring but clean looking blue and white design of early days, differentiating it from the eyesore of MySpace's chaos, Facebook has gradually allowed for more and more personalization so that our posts can stand out in people's endless newsstream. First it was colored backgrounds, then graphical wallpapers, but now once you have your Facebook avatar all set up, it occasionally includes very personalized wallpapers that include, well, you in the graphic! They're accessible through the same mechanism you use for any post, and once you've set up your Facebook avatar on your mobile, work on both mobile and desktop Facebook.
HOW TO USE PERSONALIZED FACEBOOK AVATAR WALLPAPERS
It seems like these appear for specific holidays and then vanish again, so once the Christmas/New Year's ones vanish, I expect that some tied to Valentine's Day and then spring will appear. So let's get this demo going stat!
As always, here's what you see on the Desktop FB interface before you've clicked or started typing in your message:

As soon as you click on the box with "What's on your mind, Dave?" (well, with your name substituted, of course) it opens up to a bigger box with more options: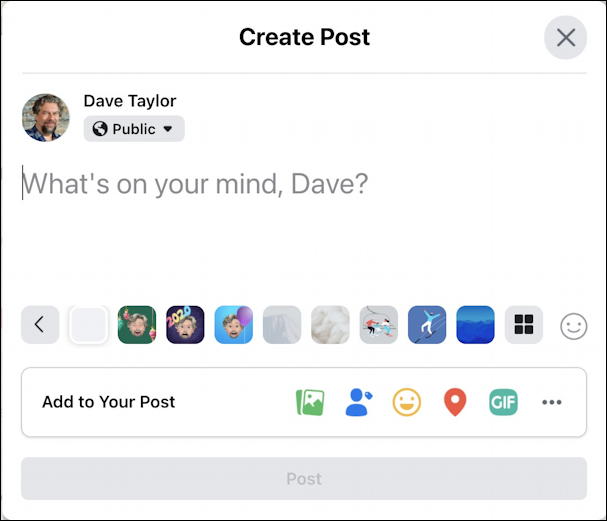 If there are avatar-themed wallpapers available, they'll show up along the row of wallpaper buttons on the bottom. You can see in the above that there are three different options at this moment. A click on the first one, with the green background, for example, and this is now what's on screen: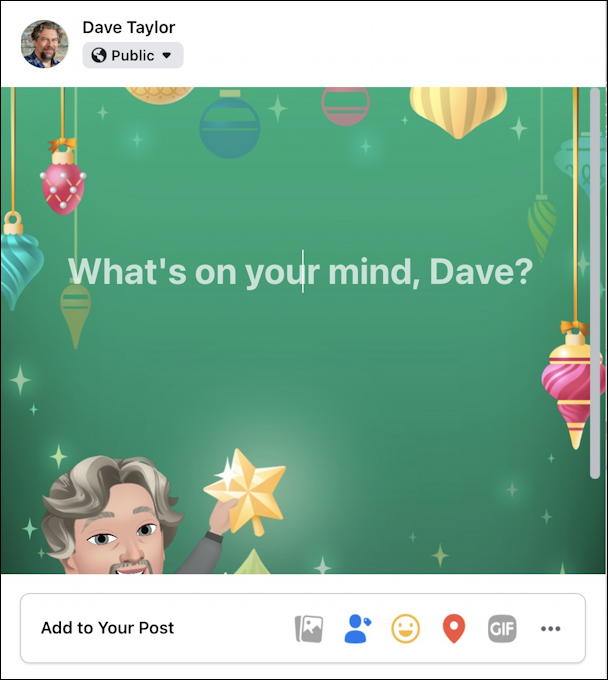 I missed Christmas by a week so that's not a great choice (though it is still the twelve days of Christmas, I don't think many people actually keep count), but it does bring up a question: How do you change to see another one if that's all it's showing?
The answer is: scroll down on the image. It's not a great design, but some of these wallpapers are longer than the default update entry window area, so while the row of background wallpapers is still present – allowing you to try another one – you can't see 'em.
Just below the visible area is this: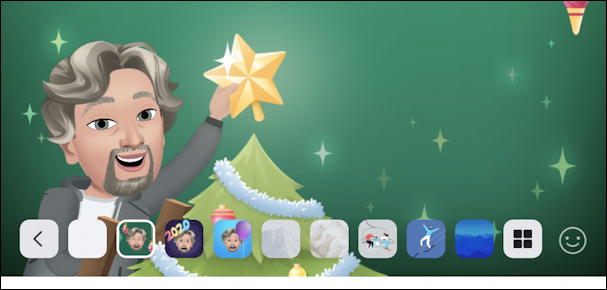 Ahhhh now you can see what's going on. Not only that, but it's easy to see about the 2020 wallpaper…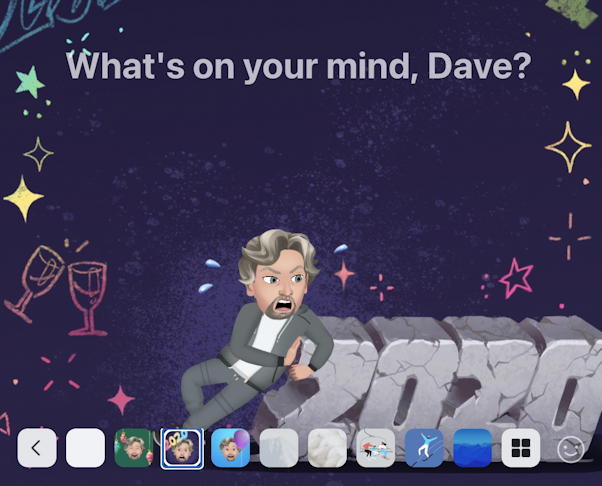 Or check out the lighter blue New Year's Eve party wallpaper, for that matter…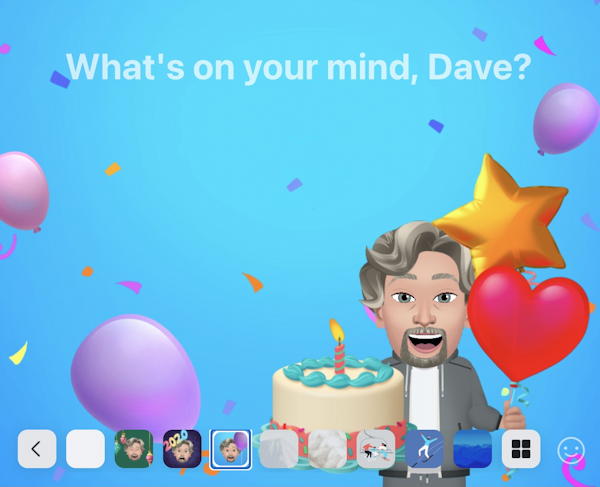 The other wallpapers shown are also attractive but lack your avatar. If you click on the last of them, with the grid of four black squares, you'll get to a larger listing of even more background wallpapers. Facebook now has quite a gallery from which we can choose!
I'll back up to the 2020 wallpaper since it's now Jan 2 and I can't really still be celebrating New Year's Eve. A few words to express my view and I'm ready to share: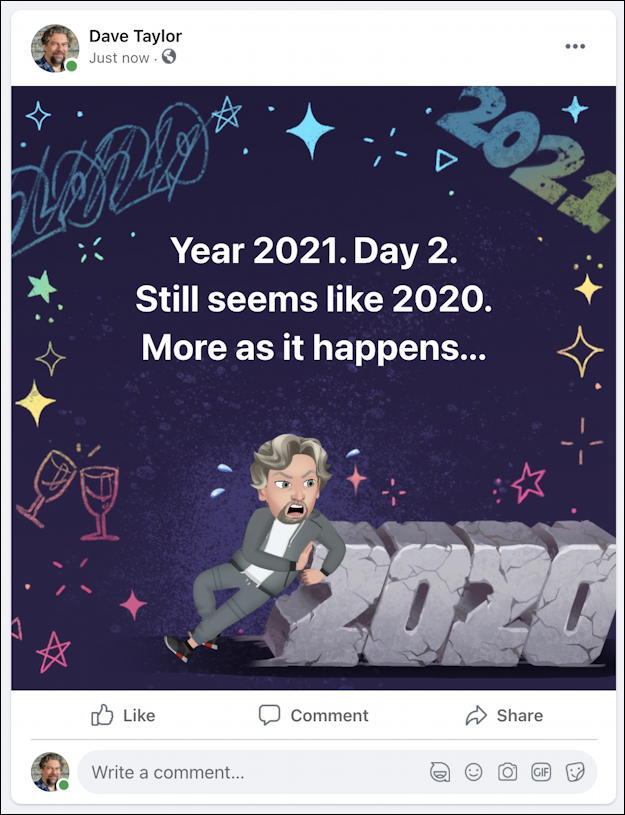 And that's how ya do it. Once you've set up your Facebook avatar on your Facebook for Mobile app, it's pretty easy!
Pro Tip: I've been writing about Facebook since it first appeared on the Internet. Please check out my quite extensive Facebook help library for hundreds of useful tutorials and insider tips and tricks. And why not follow AskDaveTaylor on Facebook for even more tips and tricks? Thanks!