Some of my friends on Facebook have been posting comments using cartoon characters of themselves. These Facebook avatars are pretty sweet and I want one! How can I create my own avatar on Facebook?
Facebook is adding some fun to our interaction on the site and trying to compete directly with Apple by introducing personalized avatars that are used to create reaction stickers and other graphical elements you could use on the site. Apple calls them Animoji while Facebook just calls them Avatars but they're the same thing, and it all harkens back to older computer games. Years ago PC casino and card games let you create your own custom avatar so you'd see "yourself" sitting at the table on screen with all the other computer generated characters. Creating your avatar turned out to be great fun and on systems like the Nintendo Wii they even had a whole world of "Mii" avatars that could interact and even show up in some of the games.
And so Facebook has joined the club. At this point, however, you'll need an iPhone or Android phone because the only place you can create your avatar is in the Facebook Mobile app. Not on your computer, just on an Android or iPhone device. Which is great if you use Facebook from a mobile device but if not, well, you might want to borrow a friend's device or get Facebook hooked up on your smartphone for this particular task. Once you've created your avatar, you can access it from any Facebook platform, including directly through a Web browser.
So let's get started. If you're lucky, you'll see a friend post their avatar on Facebook, in which case there's a simple 'try it' button that appears. For example, Irene posted hers: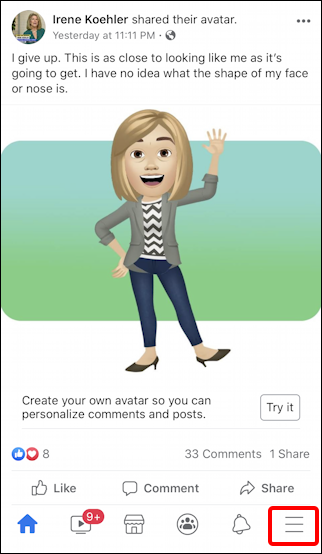 If you have the "Try it" button, then you can tap that. If not, on your iPhone tap on the three horizontal lines on the lower right. It's highlighted in the above image.
This brings up a long menu of options: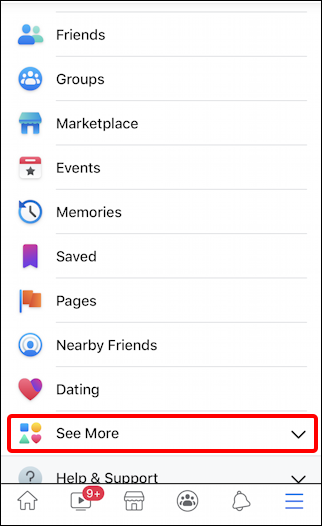 As highlighted again, choose "See More" to reveal even more options: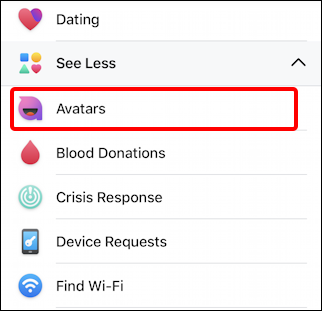 There it is! "Avatars". If you don't have this, update your version of Facebook on your iOS device.
A tap on "Avatars" and you'll be moved into the avatar creation tool: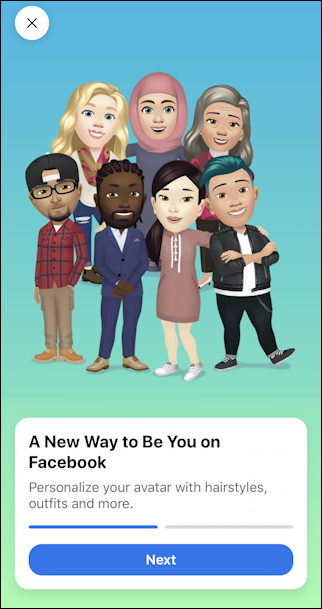 Pretty cool variety of faces, body types and outfits, that's for sure. Do you recognize anyone in that image? 🙂
Tap on "Next" to proceed…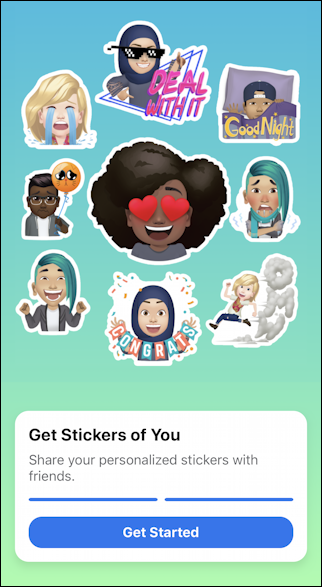 You have to admit, pretty fun, if a bit sophomoric. That's okay, we can all do with some fun and chuckles, though some of these reaction avatar stickers might be pretty weird and out of place in the more serious discussions that happen on the site.
Whatevs, right? Let's "Get Started" by tapping on that button.
Now you'll get to the core of the avatar creation tool. It's useful to have a photo of yourself (or a mirror) to reference as you proceed, or perhaps have someone else create your avatar while looking at you. First up, skin color: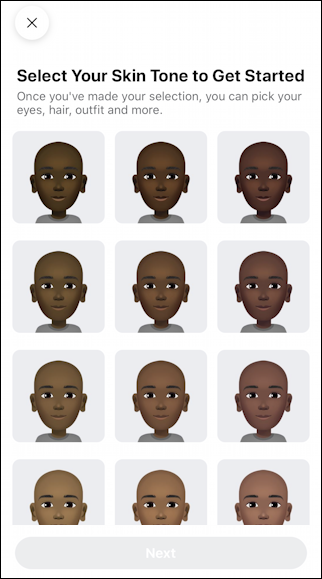 Lots of choices here, and don't worry about face shape, lack of hair, etc. That's all going to show up a bit further into the process.
In fact, a few steps further, my avatar is starting to come together:
See that little "vanity mirror" icon on the top right? If you tap on it it'll show you a live video of your face from your selfie camera. A useful reference. Meanwhile, above I am picking hair color, opting not to try out green or purple (though it's tempting!)
Further along yet, my avatar is coming together:
Most all of these steps involves compromise, of course. There's no outfit that's quite what I wear, no hair style that really mimics my own hair, etc, but… that's okay. This is all for fun.
And so, this is my avatar:
Not quite my facial structure, but not too bad. Tap on "Next" and you'll see some of the various stickers, though with a generic avatar instead of your new appearance:
Looks good! Tap on "Done" to finish. Now I can finally see what all these stickers look like with my avatar incorporated into the design. In fact, pretty darn fun: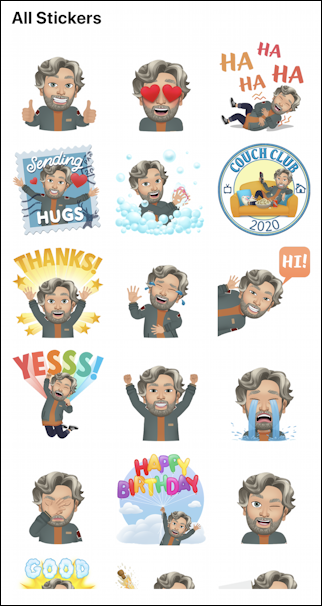 So there you have it. I have been reduced down to a cartoon character and so can you.
Is this going to take over Facebook and make it even more surreal when someone shares bad news and gets cartoonish sticker reactions? Probaby for a short while, but the novelty will wear off and these will then become something used in moderation, as Animoji are on the iPhone now that it's not new.
And, finally, here's my avatar showing up – oh so subtly! – as one of the "sticker" options within Facebook on my Web browser: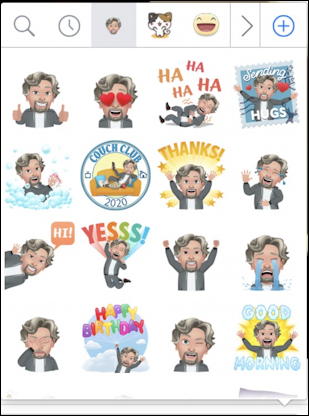 Now, go create your avatar and good luck!
Pro Tip: I've been writing about Facebook for quite a while and have an extensive Facebook help library. Please check out all my tutorials while you're visiting my site, and don't forget to subscribe to AskDaveTaylor on Facebook, where we post lots of exclusive content too!